Over and over again, UW Oshkosh's radio/TV/film (RTF) majors have proven to be among the best student filmmakers in the state. Through the summer and into the beginning of fall semester, RTF majors have been bringing home awards spanning all across the board. 
"Achieving multiple awards in a single season is no small feat," Beth Hubbard, an associate professor of post production, said. " It's the product of passion, determination, and a love for storytelling that radio/TV/film students embody."
Hubbard describes her students as filled with grit, creativity and the undying urge to tell stories that matter. 
 "This summer, their tales have left an indelible mark on audiences across the nation," Hubbard said. 
One of those films is Megan Kitzman's "Now We Wait" a film addressing gun violence in America. At the Milwaukee short film festival, Kitzman won best script.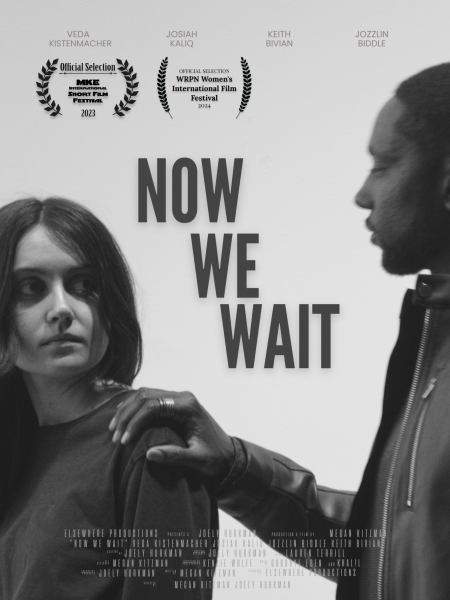 "The countless hours invested in scripting, filming and editing ensured that the film deeply resonates with a wide audience," Hubbard said. "Many who contributed to this project have been personally affected by gun violence and placed immense significance on the call to action."
Kitzman was inspired to make this film by the constant gun violence she was seeing in the news. 
"Almost every day I go to school, I think, 'what if today is the day?' I find myself constantly looking for exits, and if I need to defend myself, I'm looking for objects I could use to do so," Kitzman said. "When I'm not a student, I'm a bartender. Every time I bartend, it's the same story."
The story follows a young woman named Rae who has an intense fear of dying. On a night out with friends they encounter death "too soon, too young and without warning" Kitzman said. 
"I decided to write this film as a response to the lack of action being taken in the slew of murders that have taken place all over the United States," Kitzman said. 
People go to school scared; they go to bars scared; they go to parades scared; their neighborhoods scared; the beach scared; their homes scared; the mall scared; sacred places sacred. Clearly, nowhere is safe anymore, but nothing is being done about it." 
Kitzman describes herself as a team player. When she works with others, her creative process thrives. 
"I love working with a team," Kitzman said. "As much as I appreciate the simplicity and tranquility of working alone, being able to work with a group of people elevated the creative process."
Her background in performance arts as a child got her into filmmaking. She was in plays and musicals and had a short stint in the improv comedy world. 
"After I graduated high school in 2019, I decided to put it all behind me and head on to my next adventure," Kitzman said. "My 'hiatus' lasted all of maybe two years. In the Fall of 2020, I transferred to UWO and decided to major in RTF. When I started the RTF major, I realized that I didn't want to be in front of the camera; I wanted to be behind the camera however I could."
Kitzman described winning best script as "surreal and so overwhelming." At the time, she wasn't expecting to win anything, neither was her team. 
"Just being selected to screen at the festival was exciting enough. Finding out that we won an award was crazy!" Kitzman said. 
"Now We Wait" was her first big project and knowing that other people valued the story she was sharing meant everything to her. 
"At least for me, it felt so vulnerable having an audience view my work, especially when I'm in the room with them," Kitzman said. "Every time I've watched the film with other people in the room, my heart starts racing, I get all sweaty and I feel like I'm going to throw up. However, after the credits roll, my sense of pride for what was created is overwhelming."
She said the anxiety comes from how much she cares about the film and how important she feels the message is. 
Kitzman said "Now We Wait" couldn't have been done without Joely Hurkman, Lauren Terrill, Kenzie Wolfe and their professor Beth Hubbard.  
"In the RTF department, you have the resources to make virtually anything. If you have the idea, create it," Kitzman said.