Farmers bring local flavor to UWO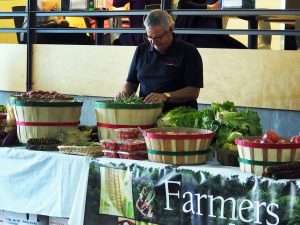 UW Oshkosh and Sodexo food services featured fresh, local products at the third annual farmer's market in Reeve Memorial Union on Oct. 5.
According to Kyle Milligan, Sodexo's unit marketing coordinator, the original plan was for the event to be held outside, but with the morning rain, vendors had to adjust and move booths inside.
Many vendors returned to this year's farmers market, including local vendor Whispering Pine Farms owner Paula Fitch.
"We love coming back here, the students really seem to enjoy it," Fitch said.
Student Mckenna Immerfall said the event brought the convenience of healthy eating to UWO students.
"It makes sense since it's hard to get off campus to buy groceries," she said. "It makes it more accessible."
Danielle Boerson of Boerson Farms said the farmers market is a chance for students and local growers to familiarize themselves with each other.
"The farmers market is a super positive reminder to eat in-season foods and it gives us a chance to connect with the student body," Boerson said.
According to Boerson, it's important for students to recognize what goes into their food.
"College students are asking more questions about their food sources," Boerson said. "They are thinking more about what they are putting in their bodies."
According to Milligan, this year's farmers market was more successful for local vendors compared to the farmers markets held in the past.
"The kettle corn located outside almost completely sold out as well as Sodexo's bakery," he said.
Boerson said selling her products at UWO and at other farmers markets is her favorite part of the experience.
"I love talking to people about food and what they cook in their kitchens with my produce," Boerson said. "It really puts me in touch with my customers."