Campus Climate Survey results released to campus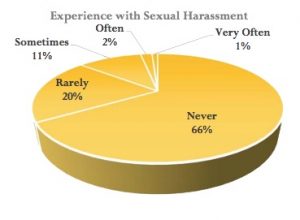 UW Oshkosh staff and students came together for the Campus Climate Study Breakfast Forum to discuss the results of the Campus Climate Survey taken by the UWO community last spring.
One area of emphasis from the results, according to associate professor of anthropology Stephanie de Montigny, was that 54 percent of students experience exclusionary hostile conduct.
"This included being the target of derogatory remarks, being ignored or excluded, feeling intimidated or bullied," de Montigny said. "Very constantly gender minority students experience the most exclusionary hostile conduct. This was a recurring theme throughout the entire report."
The Campus Climate Study Breakfast Forum was held at the Alumni Welcome and Conference Center and was open to students and employees of UWO on Oct. 20.
The forum was held by the committee who collected the results from the UWO community including co-chairs de Montigny and Liz Cannon, Director of the LGBTQ Resource Center.
Another area that drew concern from the reports, according to de Montigny, was the results of the sexual assault questions.
"Only five percent [of students] on the survey indicated they had experienced sexual assault or harassment and only 16 percent of that [percentage] reported it to on-campus officials," de Montigny said. "Our general consensus however, is this is underreported and we need to look more into that."
According to UWO student Nick Bode, the percentage of students reporting sexual harassment or assault doesn't surprise him.
"I think the universities typically don't like to report things like that and victims know that universities [and] some places can cover that up," Bode said. "I think that is a real problem and that is very frustrating. I mean, that is not really a comfortable thing that some kids want to talk to a dean about."
Discussing the employee results about sexual harassment, Cannon said 86 percent had not experienced or witnessed sexual harassment, but one percent had experienced sexual harassment.
"Even one percent of the number of people who completed this survey is too high," Cannon said.
Cannon said UWO needs to prioritize diversity in their hiring process in the future.
"Our employee respondents African-American or black could not even be represented in a pie chart," Cannon said.
According to de Montigny, the Campus Climate Study was started back in 2008 by an outside consulting firm, but has now shifted to in-house surveying.
"We collected information from students and employees regarding demographics, expectations, perceptions of campus climate, overall quality of life, experiences of exclusionary harassing, offensive or hostile conduct, as well as sexual misconduct," de Montigny said.
de Montigny said the process began 22 months ago and went through several drafts before settling on the final survey.
"We started with a survey and revised it many times," de Montigny said. "We had listening sessions on campus where we got feedback from people on campus."
Bode said he took the survey last spring and reflected on how in-depth the survey went.
"I was surprised how thorough the survey was and what it all covered," Bode said. "I thought it would be like what you like here and dislike, but it covered a lot more."
Going forward, raising awareness of the sexual harassment results are part of the climate survey committee's plan, according to Cannon.
"We want to raise campus awareness that we offer services," Cannon said. "We also want to expand these services. We want to improve reporting procedures for handling sexual harassment and assault."
Cannon said the board and university need to raise campus awareness of the climate survey to generate an even more accurate study and wants to receive more student questionnaires in the future.
"We want to make sure that students realize that this is not a survey analyzing weather conditions," Cannon said. "We want to obtain a diverse representation in student responses."