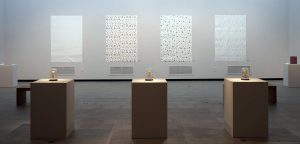 Artist Lindsey Beal brought her "Past as Present" exhibit, which takes a unique look at women's history, to the Allen Priebe Art Gallery.
The artist reception was Nov. 3 as part of the Rhode Island artist's exhibition that will be on the UWO campus until Nov. 20.
Beal's exhibit "Past as Present" looked at the lives of women throughout time including photographs of intimate appliances, transmissions of sexual infections and Venus figurines.
Beal said her art comes from mixing historical and contemporary elements together to form her unique style of art and storytelling.
"My style comes from looking at history and it's circular format," Beal said. "I am really into antique processes and adding new digital photography and combining the two together. Also, it comes from looking at historical topics that are still very prevalent today, and also looking at the iconic woman's form and looking at how it has changed."
Art gallery board student member Nick Pierson said Beal's creative process goes well with history and bridging the gap between women and social norms.
"I think it's really cool that she is bringing up these conversations in her art," Pierson said. "I think it shows the gaining respect of women. I think in the past these were conversations swept under the rug where now this can be a conversation and in more of an artistic way too."
Pierson said he believes Beal's message is also shown in the materials she uses in her work.
"I think her work correlates with the history she is trying to portray," Pierson said. "She uses a lot of different artistic processes that I did not even know about."
Beal created the transmission series by taking the image of STI bacteria under a microscope and turning them into a print using a process of cyanotype.
UWO sophomore Elise Jakusz said her favorite series was the transmissions, and she loves the message the series brings up.
"It is so interesting to see them transformed into art especially since there is such a stigma about that," Jakusz said. "She uses old time techniques to develop them which is very cool and unique. It's something we haven't really seen much in the gallery before."
UWO junior Rachel Porter said Beal's work with the transmissions isn't something she would normally think of as art.
"I find it very interesting," Porter said. "I'm a nursing major so I have studied some of these in a biology class, but I have never seen someone use these as art."
Beal said her favorite pieces in her gallery are usually the first pieces she creates in a series.
"I have a favorite piece in each of the collections, I couldn't just pick one," Beal said, "A lot of times they are my first piece in the collection that inspire the rest of the pieces."
Beal said current events and being a lifelong learner is what inspires her art.
"A lot of my work is inspired by what I am reading or what I hear in the news," Beal said. "Whether it be current events or literature, I love learning and learning new art process."
According to Beal, she believes every young photographer should find what makes them unique and what story they want to tell the world.
"Figure out what you are passionate about outside of art and bring that into your work," Beal said. "It will make your work more personal, and it doesn't need to be autobiographical. Just think what you can bring to the table that no one else can."