'Humans of Oshkosh' features local first responders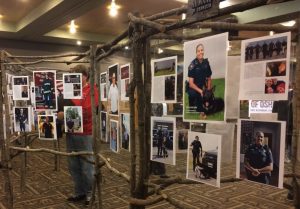 UW Oshkosh students and faculty came together with the Oshkosh community to celebrate the "Humans of Oshkosh" book that was released featuring first responders in the community.
The event, which was held at Reeve Memorial Union, had students who worked on the project and UWO professor Grace Lim talk about their experience.
Lim said she had the idea for the project before the University Studies Program began.
"I had a student who would sit in the front row and give me funny looks when I would talk about war in Iraq," Lim said. "Then I couldn't take it anymore and I asked her what was up. She said that the media only covered half the story. They never talk about the good the military is doing there."
Lim said she learned that student had came back from a tour in Iraq and was started working on her degree.
"This girl looked no more than 14," Lim said. "I asked her how she would know about the good the military does in Iraq. She told me she was just there."
Lim said she realized she didn't know much about her students and others that served the community.
"That humbling moment became a clear call for me to know more about the students who sit in my classroom," Lim said.
UWO junior Briana Eigner said her experience with the class led her to interview a Flight For Life nurse, Christine Thome.
"Part of me was hoping that they would get a call," Eigner said. "It would make for a great story, but I knew that if they did it would mean that someone was in trouble."
According to Eigner, Thome received a call and she was able to witness what Thome got to do.
"Through her stories, I gained so much respect for our first responders and what they do," Eigner said.
Lim said her goal was to get students to take part in the community and learn about the people who live there.
"Through the work of my students, we were able to know people who live, work, love and grow in this community through their stories," Lim said.
Eigner said her experiences with first responders are nothing new, having grown up with her dad, who was a volunteer firefighter.
"I grew up thinking I knew everything that I needed to know about firefighting," Eigner said. "The older I got, I realized that being a firefighter wasn't about driving a truck fast or sliding down a fire pole. Those individuals risk their lives daily so that they can help others."
Sophomore Taylor Kotlarek signed up for Lim's class not knowing what to expect and was nervous to interview people.
"The first time I had to go out and interview someone I spent hours walking around downtown Oshkosh looking for someone to interview," Kotlarek said. "I would look at someone and think 'what about this one?' and then would talk myself out of it."
Kotlarek said she hopes the experience she learned from Lim's class will help her for her future career.
"I hope to be a doctor one day," Kotlarek said. "I know I can't pick who I get to talk to. I have to talk to everyone who comes into my hospital or clinic and hope they trust me enough to tell me their story. Through this class I learned that everyone has a story."