Destress fest relaxes UWO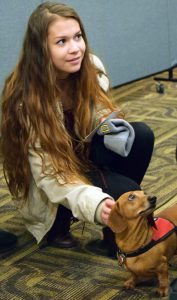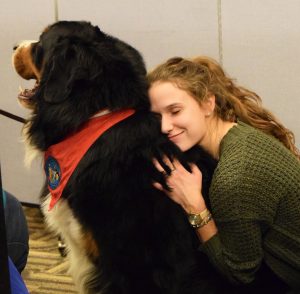 UW Oshkosh students were able to relax, get massages and interact with dogs at Destress Fest, an event in Reeve Memorial Union on Friday to help reduce stress before finals week.
Student Bayleigh Marquis said she enjoyed playing with the dogs at Destress Fest because she does not get to see her own pet while she's away at school.
"I had a blast being able to pet all the different dogs that were there, it was the highlight of my week." Marquis said.
Health Promotion Coordinator Juliana Kahrs said the event was put on with help from Reeve Union and the United Students In Residence Halls (USRH) planning committee, and she is confident it can get even better in the future.
"Our goal was to create an environment where hundreds of students could relax and enjoy a Friday night on campus while also learning and practicing healthy stress-management strategies," Kahrs said. "Students spent time doing crafts, playing games, getting massages and interacting with therapy dogs."