UWO forms vice chancellor hiring committee, asks student input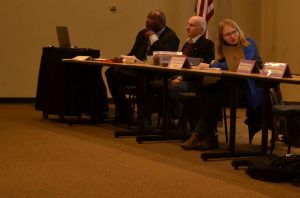 A panel on Monday called for student input about the search for the new vice chancellor of student affairs by the Student Affairs Search and Screen Committee​ in the UW Oshkosh Reeve Theater.
The panel was led by Alan Crist, one of the members in charge of organizing the search for the new vice chancellor position.
Part of the vice chancellor of student affairs position is being responsible for managing a combined budget of $21 million for student centers on campus and helping oversee each center.
Crist began discussion of the proposed timeline by saying the committee hopes to fill the position by the end of March 2017.
The position is temporarily being overseen by Associate Vice Chancellor for Enrollment Management Brandon Miller.
Oshkosh Student Association Chief of Staff Alexander Novak said he wants someone who has experience with budgeting and cuts due to the large budget the position would manage.
"Due to the description of duties the vice chancellor would oversee, I think they should have a lot of experience with budgeting," Novak said. "It seems like he would oversee a very large budget that directly impacts students here."
Crist said experience with budgeting is a concern of everyone on the committee as they move forward with the search.
"That is something that we have been emphasizing in our search and it continues to come up in other conversations," Crist said. "Also, in this environment of budgets being cut. How someone would prioritize where money would be cut from is something we want to know."
Novak said he wants someone who respects the University identity and its individual student value.
"I want to see someone who would work with students' representation on budget decisions or on certain committees that would have impact the university as a whole," Novak said.
According to Novak, the new vice chancellor should also be willing to help take on the results of the campus climate survey that had recently been released.
"We would want someone who is aware of the issues that have come out from the climate survey and that we do have diversity issues on this campus," Novak said. "We want someone who cares what UWO is doing to improve those issues."
OSA Vice President Pro Tempore Kaitlyn Cartwright said she wants to see the new vice chancellor be in touch with the typical UWO student and know why they attend UWO.
"A new vice chancellor needs to understand that the average UWO student here goes here for the community, affordability and ability to communicate with professors," Cartwright said. "They need to know that UWO makes an effort to connect with the Oshkosh community here."
OSA Speaker Pro Tempore Emily Colon said whoever is hired should understand the opportunities offered through the school and why that makes UWO great.
"I chose UWO based on the fact that it feels like home and there are so many great resources for students offered here," Colon said. "A new vice chancellor would need to know that in order to know how important those resources are to students here."
Crist said the projected timeline will start the search at the beginning of the next semester and fill the position by the end of the academic year.
"Feb. 20 will be our target application day but we are telling anyone who wants full consideration to apply until the position is filled," Crist said.
While Crist said the committee is posting the job nationwide, someone already in the UWO administration could also apply for the position.
"In my experience, [when someone] is hired internally from an institution, everyone knows that person pretty well," Crist said. "That is a double edge sword because there isn't anyone who hasn't stepped on a few toes and you are going to know about that. On the other hand, you know them really well and you know what kind of good job they can do."
Crist said the search is a confidential process until the final candidates are selected, hoping the privacy will encourage people to apply.
"We are advertising in many nationwide higher education magazines and we are reaching out to a broad audience as much as possible," Crist said. "This isn't to say that people who are here internally aren't welcome to apply as well."
Going forward, Crist said students' suggestions are what are going to help shape how the committee goes about searching for the right person for the job.
"It is important when people start interviewing for the position, I can tell them 'this is what students want to see from you,'" Crist said.