Blackhawk, Reeve to get updates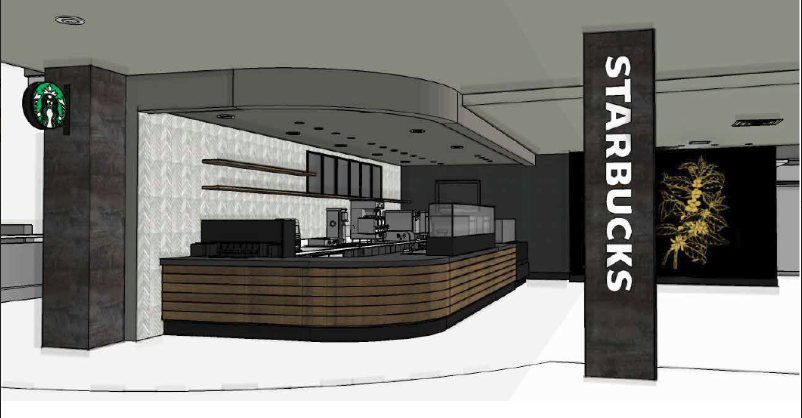 The University of Wisconsin Oshkosh plans to replace the Mi Taza Coffeehouse in Reeve Memorial Union with an official Starbucks store.
UWO also has plans to redo the seating areas of Blackhawk Commons, including three new themed areas to sit and updated tables and chairs for patrons.
Director of Reeve Memorial Union Randy Hedge said the Blackhawk seating project, yet to be completed, might cost around $300,000.
"We are waiting for updated quotes, and are negotiating on a few changes to the original quote at this point," Hedge said.
Hedge said the Starbucks price could be decided soon.
"The Starbucks build-out [which includes cabinetry, equipment, merchandising, etc.] would run $205,000," Hedge said. "The general contractor cost will be substantial, and we should know that in a month or two."
Assistant Director for Dining Operations Marty Strand said a better-looking, more nicely furnished Blackhawk is going to benefit students since it has been 15 years since opening.
"That's pretty old," Strand said. "Usually restaurants try to renovate every three to five years and that's typical. So we're way behind the curve."
Strand said he is surprised the furniture has held up as long as it has.
"When you're feeding a thousand students a day, those chairs are filled three times a day, times however many days that was, they've been used and used well," Strand said. "And they've held up really well, but they're showing signs of wear and eventually they'll be valueless."
UWO sophomore Landon Polk said he does not mind the layout of Blackhawk right now, but it can be frustrating at times.
"When it gets kind of busy it can be kind of hard to find single seating," Polk said. "Otherwise everything is spread out pretty well. I don't have any complaints about that."
Strand said more important projects have pushed back the Blackhawk renovation, leaving the start date a bit muddy.
"The train is on the tracks; it's all fueled up and ready to go," Strand said. "It's just that we haven't gotten the engineer in place to drive the train."
Polk said he doesn't think the seating in Blackhawk is comfortable.
"The chairs and tables are fine, but the booths are kind of hard to get in and out of," Polk said.
Strand said the University replaced some of the sneeze guards and tray rails that are worn, which is the same principle he used for the renovation.
"If you start to look really tired, worn and beat-up pretty soon you become a detraction instead of an attraction," Strand said.
Strand said the updates to Blackhawk could show touring students what the campus can provide for dining services.
"When parents bring their potential students through, they see what we really offer our students," Strand said. "On top of the fact that our current students deserve a nice place to eat."
Strand said the theme names for the dining areas chosen were: Like Home, Art is Life and Spirit.
Strand said area layout was chosen by asking students what concerned them about Blackhawk.
"All of them said 'one thing is when we are meeting someone here, we don't know where to meet them and your food's cold sometimes by the time you find your friends.'" Strand said.
Strand said one of the reasons for putting an official Starbucks in Reeve is to catch the eyes of people and future students on campus.
"If you go to a campus and you don't see any of those things and you go to our campus, that can be the deciding factor," Strand said. "I've got Whitewater and I've got Oshkosh and I'd choose either one, but there's a Starbucks at Oshkosh, boom. I guess that could be the tipping point."