UW Oshkosh student wins Miss Oshkosh pageant
[media-credit name="CourtMiss Oshkosh Pageant" align="alignleft" width="300″]
[/media-credit]
[media-credit name="Courtesy of Miss Oshkosh Pageant" align="alignleft" width="300″]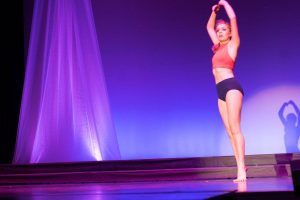 [/media-credit]
UWO sophomore biology-healthcare major Karis Fiedler won the Miss Oshkosh 2017 Scholarship Pageant against seven other contestants on March 4.
According to Fiedler, this was her first time competing in a pageant, and was happy to be titled Miss Oshkosh.
Oshkosh Area Women's Association Local Chairperson Michelle Hammett attended the 2017 Miss Oshkosh Pageant and said Fiedler did a wonderful job.
"It was her first time in the pageant," Hammett said. "It was a very good show and very good pageant overall."
For the talent competition Fiedler performed a dance routine. She said she started learning her talent at the age of 13.
"I began dance classes in Richard's School of Dance," Fiedler said. "I trained in jazz, modern, ballet, lyrical and contemporary [dance]."
Fiedler said she gained interest in the pageant industry over the past five years when she started attending the events.
"Watching the show and seeing how the program allows for a young woman to make a difference in their community really spawned my interest in competing myself," Fiedler said.
Fiedler said there is a platform of service required for the competition.
"The main requirement for being a contestant in the pageant is having a platform for which you will advocate during your year of service," Fiedler said. "My platform is textile waste: the environmental impact of clothing. My goal is to promote buying and donating clothing to and from thrift stores, shopping consignment, shopping from companies that use sustainable fabrics and simply buying less."
2011 Miss Oshkosh winner and UWO Study Away Coordinator Kelsey McDaniels said Fiedler had a very unique service platform.
"A lot of times someone can say they support a type of service, but they haven't done a lot for it," McDaniels said. "It just shows that Fiedler takes it to heart."
Hammett said Fiedler's service platform is a different take from what other contestants' platforms are.
"It is not the first thing you think about when you think about textile waste," Hammett said. "You know a lot of platforms, all worthy platforms, [focus on areas] such as fighting illnesses, literacy or human trafficking."
Hammett said it is an interesting take on the use of textile waste.
"And then it makes you stop and think, oh you know you are right. I'm buying clothes just because it is trendy," Hammett said. "But next year I am just going to throw it away not thinking about recycling or repurposing."
Fiedler said her family has supported her throughout the competition.
"My family is incredibly supportive, and I am thankful everyday for all the love and support they have offered me," Fiedler said.
McDaniels said the pageant helps contestants even after the competition.
"The scholarship money helps with education, and not only that but a lot of girls say that the interview skills they gained from the competition really helped them be successful in their career," McDaniels said.
Fiedler said pageants are important for women because it helps with confidence and service.
"I believe the pageants allow for young women to advocate for something in which they believe and to promote self confidence," Fiedler said. "It takes a lot of courage to step out on stage, and the pageant provides an outlet through which one's confidence can shine."