Jesse McCartney chosen as Bye Gosh Fest performer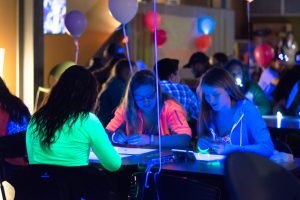 Jesse McCartney is set to headline UW Oshkosh's annual Bye Gosh Fest on May 4, 2017 at 3:30 p.m. in the Kolf parking lot.
Clara Hewins, an elementary education major, said Bye Gosh Fest is a good way to finish the school year.
"It's a fun event because it's the end of the year, so you're like 'woo I'm done and I'm here to have fun while listening to good music,'" Hewins said.
Months of preparation and planning from Reeve Union Board, which not many students see, go into Bye Gosh Fest according to Rachael Horkmann, RUB concerts and comedy chair.
Dylan Bram, program advisor for RUB and late night programs, said the process starts in October when the middle agent sends a list of more than 100 artists.
The middle agent is the person who works between RUB and artist agents, according to Bram.
The concerts and comedy chair narrows that list down, gives it to the RUB committee who narrows it down more and then it gets sent out to the campus for voting, Bram said.
"We get the top three or four, fill out a piece of paper [then] goes to our middle agent to let him know who we're gunning for," Bram said.
UWO students had chosen Machine Gun Kelly as their No. 1 choice, but administration had some concerns over the messages the artist sends and how that would work against the campus' goal. They asked if RUB wanted to support something like that artist knowing it could be offensive to people on campus, Bram said.
"RUB was willing to support him because they are trying to support the campus vote," Bram said. "[RUB wanted to] give them what they want…as it's part of their allocated money, we want to give them what they have paid for."
Horkmann said she made the offer to Machine Gun Kelly because he was available and in her price range, but administration came back asking for a letter saying why RUB would be standing behind the decision.
"I brought up how we've had artists who are similar in the past, and no one's complained that I've ever heard of," Horkmann said. "They had said it was an outdoor show so people that weren't even at the show would be able to hear the profanity, that it would offend people, and I'm like, 'this is a college campus.'"
Horkmann said she submitted the letter and even told administration that Machine Gun Kelly would do a PG show, but administration said they wanted to see all the edited lyrics before approving or RUB could find an indoor venue and do an unedited show.
After the ballroom floor almost broke for the Mike Posner show in 2014, Reeve wasn't an option, and they didn't know where else to go, Horkmann said.
"I think they eventually just caved," Horkmann said. "Which was good since Albee is a gym and we're lucky enough to even have the homecoming comedian in there."
After waiting for administration to sign the forms, RUB finally made an offer to Machine Gun Kelly; after a few days, he ended up cancelling his tour of the Midwest, Bram said.
"That's what's definitely put us in a hold up," Bram said. "You're waiting on a bunch of voices that are just not there. So when they got back, we eventually got what we needed but then the artist ended up changing his plans."
Assistant Director for Student Involvement Missy Burgess said she doesn't know if they want the information shared publicly because they don't want the perception that administration is censoring the concert but rather they are just trying to be safe.
"This concert is an outdoor concert and can be heard by anyone and everyone including the neighbors across the river so being mindful and respectful of that," Burgess said.
"The other piece is, is this [how does] RUB want to represent themselves? It was more of the administration challenging RUB to say, 'Is this who you want to represent you?'"
Interim Vice Chancellor for Student Affairs Brandon Miller said administration was trying to work with Bram to advise what RUB could or could not do and whether a good plan of action with the radio edit show would have worked.
"We're just trying to make sure it is a program that would not be offensive or put us in the news," Miller said.
After Machine Gun Kelly cancelled his [entire] Midwest tour, RUB had to look at who to get next but the second artist, Jeremih, was just as bad, if not worse, than the first artist, so we picked Jesse McCartney, Bram said.
UWO student Kyla Brown said whenever she thinks about Jesse McCartney, she's thrown back to when she was sitting with her brother in the backseat on the way to school and he was singing his heart out to Beautiful Soul.
"It's such a good memory of my little brother when he was still blonde and cute," Brown said.
Hewins said she thinks he is a good choice because this generation grew up with him.
Hewins said she believes the performance itself is going to be really good. Jesse McCartney is doing a lot of college tours right now because he says we're his best and loyal fans.
"I think, because he really appreciates how much we love him, that makes the performances better," Hewins said. "Like he's more excited to perform which makes me happy because he is my childhood homeboy.""