Koker named interim provost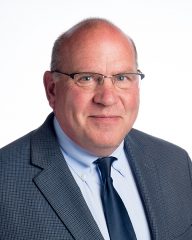 Chancellor Andrew Leavitt announced via email that John Koker will replace Lane Earns as UW Oshkosh's interim provost starting Aug. 1, when Earns retires.
Koker, who currently serves as the dean of the College of Letters and Science at UWO, said he is excited to step in for long-time colleague Earns.
"Provost Earns is the person who actually hired me when I was hired as dean in 2007," Koker said. "He appointed me as interim dean in 2006 and then he hired me as permanent dean in 2007. I've been working with Provost Earns for 11 years now as he's the person I report to in my current position."
Earns said he thinks Koker is just what the University needs right now and he will make a terrific interim provost.
"I believe John Koker is the perfect choice for this moment," Earns said. "He is experienced, well-respected and broad-based in his training and interests. Now is a time of considerable change on campus, and John has both a calmness about him developed over his years here and an enthusiasm about the possibilities going forward."
The national search for the next provost will begin in Spring 2018, according to Leavitt. Koker said he has yet to decide if he would like to apply for the position and be a part of the search process.
"It's probably too early to tell," Koker said. "I really feel fortunate that I'll have the chance to take on the interim role for a while, test the waters so-to-speak, and then I can make a decision on whether I want to participate in the national search as a candidate."
Leavitt said Koker deserves congratulations and praised his vision and strategic thinking.
"John has demonstrated strong leadership as dean of the College of Letters and Science—and I am pleased he is willing to lead the division of academic affairs during this time of transition for our institution," Leavitt said. "John brings to the role extensive experience and institutional knowledge, strong relationships with faculty and a focus on student success."
One challenge any provost has to deal with is faculty and staff moving on, but Koker said he's learned in his time in administration that turnover just means recruitment is especially important.
"I've come to realize that those things are just part of life," Koker said. "People move on. But I also know in my time as dean I've had the opportunity to hire more than 120 new faculty over the years. While it's always sad and there's regret to see people you've worked with a long time go, I also understand there's a lot of really good people out there."
According to Koker, the provost does not interact with students as much as faculty members do and their role is to ensure faculty and staff can do their jobs effectively.
"The provost leads the academic side of the university," Koker said. "Along with the deans and the chairs of the departments, that person is really the chief academic officer of the university. So while the provost and even deans don't have a lot of day-to-day contact with students, they're kind of behind the scenes providing the administrative structure for all of these programs then to happen."
Assistant Dean of the College of Nursing Suzanne Marnocha said she was happy to see Koker announced as the interim provost.
"He is a wonderful choice," Marnocha said. "We both came to campus about the same time. He is a very solid, thoughtful gentleman, and I think he'll be fine."
When Koker steps into his role as interim provost and vice chancellor of academic affairs, his spot as the dean of the College of Letters and Science will be filled by an interim dean. Koker said he's not ready to announce who that will be yet, although the decision will be made known within the next few days.
Koker said he is looking forward to his time as the interim provost and that he's thankful for the opportunity.
"UW Oshkosh is very special to me; I've been here for 26 years, and I'm really excited to be able to step up and do this job for at least a year," Koker said. "I'm really grateful that Chancellor Leavitt has given me that opportunity."