UWO PRSSA is 'blooming lives' for organ donation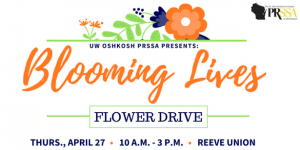 The Public Relations Student Society of America Chapter at the University of Wisconsin Oshkosh is participating in the National Organ Donation Awareness Competition to raise awareness and encourage discussion about the benefits, myths and statistics of organ donation.
While conducting surveys, creating campaign materials and collaborating with local businesses, the chapter has been busy planning a flower drive inspired by the campaign's name, "blooming lives."
The flower drive will take place on Thursday, April 27 in Reeve Memorial Union from 10 a.m. to 3 p.m. PRSSA will be handing out flowers to students, faculty and staff who engage in discussion with the organization or sign up to be an organ donor.
UWO PRSSA Vice President of Events Carissa Brzezinski said the flower drive is a way for friends and families to talk about a sensitive topic.
"There's something about the springtime and new life that serves organ donation well," Brzezinski said. "The goal of the flower drive is to focus on the positive benefits of donation itself and celebrating those who are already donors and those who want to learn more or become an organ donor."
According to Donate Life, an organization committed to increasing the number of registered organ, eye and tissue donors across the United States, one organ donor can save up to eight lives. PRSSA hopes to shed light on organ donation and play a positive role in increasing the number of registered organ donors.
The chapter is also collaborating with the University's grounds crew to plant orange pansies throughout campus. The orange-colored theme is cohesive with the orange donor stickers that are found on donors' driver's licenses.
Chapter President Katie Biersach said the support from the University is gratifying.
"I am very thankful to the University for partnering with our chapter for our campaign," Biersach said. "Spring is a fantastic time on our campus, and the orange flowers planted throughout campus will be serving two duties: beautifying campus and raising awareness for organ donation."