UW System schools, faculty display art work
[media-credit id=41 align="alignleft" width="300″]
[/media-credit]
[media-credit id=41 align="alignright" width="300″]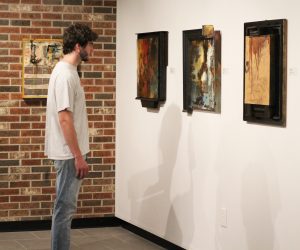 [/media-credit]
Artwork by faculty from 13 different two-year colleges are on display at the Allen Priebe Art Gallery at UW Oshkosh's Arts and Communication Center until Oct. 4.
The gallery includes work made with different mediums such as ceramics, digital media, printmaking, sculptures and more. The pieces also have different styles such as abstract and minimalist representation.
Art Professor Patricia Kopish said the exhibition is an outstanding opportunity to showcase and highlight the talented teachers in the state system.
"As far as the Faculty Exhibition, I think it is an outstanding opportunity to showcase and highlight the talented teachers we have in the state system," Kopish said. "There is such an array of media represented, one would be hard pressed to choose a favorite."
Exhibitions are planned about a year in advance by the Student Gallery Board, which votes on which artists to invite. The UW Colleges Art Faculty approached the board about exhibiting their work, and Gallery Director and Curator Leslie Walfish helped plan the exhibition when she started in August.
Walfish said she loved to know more about the artists and their work, and she learned more about the gallery when installing the exhibition.
Walfish said faculty at the UW Colleges teach all around the state, so the gallery gives them a chance to see each other's work and to discuss methods, ideas and possible collaborations.
"It also shows how talented the artists around Wisconsin teaching in the UW system are," Walfish said. "Some of the artists even went to UW schools, so students can see that there is a future career for them in the art world."
Walfish said the show includes works by Lisa Wicka, which incorporate collage, painting and drawing all presented in sculptural boxes that hint at nature and architecture coming together.
"The printmaker Pete Railand makes work about important social issues such as the lack of funding for public schools, the Dakota Access Pipeline and Sanctuary Cities," Walfish said.
Artist Pete Railand said he will be coming to UWO again Oct. 2 to speak about his work and his involvement in an organization called just seeds, which focuses on social, environmental and political engagement. Railand will be speaking in a printmaking class open to the public.
"I will be discussing my work, some collaborative projects I do with just seeds and will discuss some of my work in the show and the groups [or] issues those work with," Railand said.
Walfish said she believes the gallery is very beneficial to students.
"We are inundated with visual images through our computers, on TV and in advertisements," Walfish said. "…but seeing handmade work in person, work that is an expression of an idea or takes us to another place or gets us thinking, is so important to stimulating our minds and getting us thinking about the world around us."