Ribbon cutting marks opening of new buildings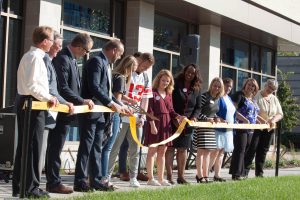 After being under construction since November, UW Oshkosh's Fletcher Hall and Reeve Memorial Union are officially open as campus faculty, staff, students and Oshkosh community members celebrated the opening with a ribbon cutting ceremony.
The ceremony on Monday held at the Horizon Village Amphitheater featured many of the planning process members and opened the doors for the public to see the new features the buildings possess.
Chancellor Andrew Leavitt said each of the renovated buildings were designed for students by students.
"Thanks to the students here, these buildings are truly their projects," Leavitt said. "We had a student committee of 14 students who helped identify needs and ensured that student involvement and development was met and to make sure [students] were the top priority both at Reeve and at Fletcher Hall."
Each of the buildings were renovated to improve campus living for current students as well as to attract new students, Vice Chancellor Cheryl Green said.
"We are taking a great step towards a brighter future for the students of the University," Green said. "This is the latest of a realization of a dream that started back in 1871 when the pioneers of this University laid down the foundation for opportunities in the Fox Valley."
Oshkosh Student Association President Maria Berge said the changes made in Reeve, including the OSA offices, had alumni reaching out.
"Notes were left in the OSA office from OSA alumni that said, 'Oh my goodness this new office is just too cool,'" Berge said. "It amazes me just how excited the alumni are that helped create and design the building are for students and future generations to use the buildings."
UWO senior Jon Miller said the renovation done on Fletcher has made it a much different place than where he lived his freshman year, but these buildings are going to be beneficial to future students just like they were for him.
"I remember moving into Fletcher Hall a few years ago where I met my roommate and made new friends and met my [community advisor] and did my homework in the lounge," Miller said. "Whether you are hanging out with friends, studying or eating a meal, these buildings are so much more than a home, they are part of our growth; [They] have shaped me into I have become."
These renovations done on Reeve and Fletcher are just the beginning of many renovations, including a hopeful renovation on "Clow part 2," according to Leavitt.
"This is really a great moment for our institution as we continue to repurpose great old buildings for new uses," Leavitt said.
Berge said she can't wait to see what kind of changes the renovations to Reeve will bring to students who use Reeve for many the many student involvement organizations and in their daily lives.
"We are so happy to have these new additions for our Titan community, and we are so excited to see the new things that come from them in the future," Berge said.