Safety Walks looks to change campus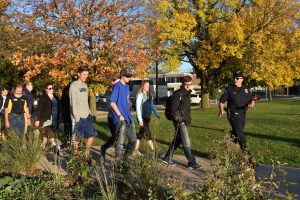 Chancellor Andrew Leavitt, Campus Police, students, faculty and others participated in UW Oshkosh's campus Safety Walk to observe and discuss safety changes for the campus last Thursday.
The campus Safety Walk is held each year and is a way for students and others to express their concerns about safety on campus.
People gathered outside of the University Police Department and from there walked the entire campus, pointing out possibly dangerous areas and discussing solutions. The main areas of focus during the walk were lack of lighting, areas of high traffic, poor walking conditions and more.
Chief of University Police Kurt Leibold said there are a number of reasons UWO does the Safety Walk.
"We want to prevent crime, fear and disorder," Leibold said. "So we do a good job on crime, not much crime on this campus, but there are times when kids don't feel safe, when they have fear when they're on campus, especially at night time walking around."
According to Leavitt and UP Capt. Chris Tarmann, an update since last year's Safety Walk is the addition of flashing lights in front of Reeve Memorial Union. The trimming of bushes and trees, which were blocking the lighting around campus, was also done to increase campus safety.
The campus also developed a safety app called UWO Mobile, which gives students different campus safety features. The app includes a virtual blue light button, a Safewalk feature, a feature to report an incident and more.
Sophomore Erica Meredith said she came to the Safety Walk with a campus change in mind.
"Maybe getting more lights around Horizon [Village] would be an idea; it seems really dark over there, everyone complains about it," Meredith said.
Leavitt has attended the past three Safety Walks since he's been the chancellor at UWO.
"We need the best input that we can get from the people that use this campus — the faculty, staff and students," Leavitt said. "And we need to understand how people use this campus and how we feel about their safety. So we do these walks, and at some point the sun will go down and the whole environment will change because it will get dark, and so we do these walks so we can begin to understand what these safety issues are."
Tarmann has participated in the last three safety walks as well. Tarmann said the Safety Walk helps UWO better understand how people want things fixed around campus and allows the police to see things in a different way.
"I think we've evolved quite a bit over the last few years, I mean, even over probably the last decade," Tarmann said. "[Safety is] taken more seriously. We have good professional law enforcement on campus, we've done a really good job in increasing the professionalism of our risk management program and we actually work hand-in -hand with risk management and so that's been an improvement."
Tarmann encourages students on campus to be alert when walking around and to walk with friends. Tarmann also said he's pushing students to use the resources the campus offers, such as the UWO mobile app.
"We obviously had an incident that occurred earlier in September, where there was an assault, and we were able to get connected to that incident based on somebody pushing a blue light," Tarmann said. "And that was a bystander who took action and stepped in, and that's a good way also to kind of help the safety is when you see something take action."