Boxing Club helps students get in shape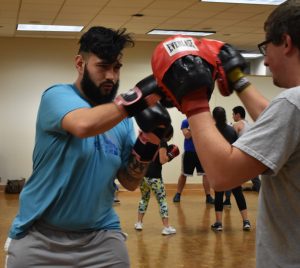 UW Oshkosh Boxing Club's membership has grown in recent months, and the influx of new members has invigorated the club.
Natalie Heidenreich, president of the UWO Boxing Club, said the club was barely alive at the end of last spring semester due to a low number of active members.
"So at the end of last year we had two members," Heidenreich said. "We just started meeting last week, like officially, but we're up to 15 and the numbers are growing everyday."
Heidenreich, who is an interactive web management major, said she attributes the growth this year to a new strategic marketing campaign.
"We've done a better job marketing this year and catering to beginners this year as opposed to just people who have experience," Heidenreich said. "We've been kind of marketing it as a workout club, where if you have any interest in the sport of boxing, if you just want a fun workout or you just want to meet new people, you can come here and do all of those things. It's super great."
The Boxing Club has been revamped this year, according to newcomer and treasurer Julia Steffes, which has brought a lot of new life and energy into the club.
"Natalie, the president, rewrote the constitution," Steffes said. "We got everything set up and did a whole bunch of promotion and recruiting. Now we have a full club with a whole bunch of new members."
Beginners are central to the Boxing Club this year and, as senior and Boxing Club newcomer Alex Horkman said ,joining the club was easy despite coming in with no experience.
"I was a little wary because I thought I would make a fool out of myself, but everyone here is really welcoming," Horkman said. "Anyone can come in with no background."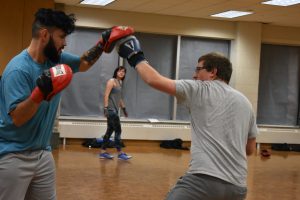 According to Steffes, getting integrated into the organization could not be easier.
"With the experienced people on the team, they are really good at introducing beginners to a new sport," Steffes said.
Heidenreich said boxing is a great alternative workout regiment for those who want to have fun and get some exercise at the same time.
"For me, I think running is actually the worst thing in the universe," Heidenreich said. "Boxing, however, is super fun. You get to punch people in the face. I mean, they get to punch you back, so it's all in good fun. I know you've heard it a million times before, but it feels like you're not even working out."
The club currently meets in Reeve 202; however, Steffes said this is just a temporary spot.
"We were originally working out in the racquetball courts in Albee," Steffes said. "Now we are in Reeve just kind of as an intermediary between Albee and the new RecPlex. So once the new RecPlex is built, we'll have some heavy bags set up and things like that. That will be our home."
Steffes said she has advice for anyone still on the fence about joining.
"Come on over; it'll be great," Steffes said. "We've been working on a bunch of combos and kind of just learning as you go and learning by example from the experienced members."
Those looking to get involved or wanting more information about the UWO Boxing Club have a few options.
According to Heidenreich, there is both a Facebook group and page, depending on the visitor's interest level. Furthermore, those interested can email Heidenreich at to get involved.