New OZZI system offers a green option for students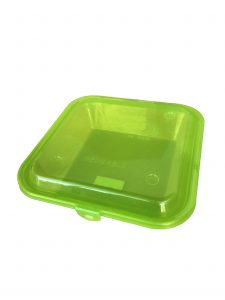 UW Oshkosh is offering students a green, alternative container to use at Garden Toss, funded by The Green Committee, in Reeve Marketplace, to reduce the use of plastic and non-recyclable containers.
The new container is part of the OZZI system, which involves a vending machine of sorts to dispense an OZZI container when a student swipes their Student ID through the machine.
Plastic containers will still be available to the campus, but will be charged an additional 25 cents at checkout, according to Associate Director for Dining Operations Marty Strand.
The Green Fund Committee funded the purchase of a refurbished OZZI machine, some containers and one-year maintenance on the machine, according to Green Fund Committee Chair Mary Rachel Novak.
"Following that, Sodexo's contract is up and whomever gets the contract is responsible for the maintenance after that," Novak said.
Novak said the students are essentially checking out the container.
"You get your meal in it and buy your salad, then take it to go or wherever you want to take it," Novak said. "You don't have to wash it [yourself] although it is dishwasher safe and microwaveable. Then you bring it back to Reeve whenever you want to use it again. You give them the dirty one and you get a new one."
Novak said if students don't return the container by the end of the semester, they will be charged $4.
Strand said students will benefit from using the OZZI container, and implementing the system is in-line with the campus' sustainability initiatives.
"Students will be reducing their carbon footprint by not using disposable plastic containers at the Garden Toss in Reeve Memorial Union," Strand said.
Junior Beatrice Germain said she plans on using the new container.
"I eat at Reeve one or two times a week and get a salad at least once," Germain said. "It'll be pretty cool to have on campus."
Novak said people from Sodexo have talked about how Reeve is supposed to be the to-go area on campus, but it isn't sustainable.
"Everything has to be thrown away; there's nothing that can be reused," Novak said. "Even the cups have a plastic lining and they can't be recycled. The Green Fund Committee received the proposal, and they talked a lot about how this would provide another good option for students to lead a more sustainable life here on campus."
Novak said the Garden Toss will be in Reeve first.
"Since we're just getting started on it, the first place it's going to go is Reeve and will be designated for [Garden] Toss, but you can use it in other areas of the marketplace as well," Novak said.
Novak also said the containers will be washed in Blackhawk commons and if the students react well to the containers, they may be offered in Blackhawk 2 Go as well.
"They're going to be taking the containers over to Blackhawk to wash them because they take things over to Blackhawk anyways, so that won't create any additional issues," Novak said. "We talked as a committee and maybe if this works well and students respond to [the container well] that we could put one in Blackhawk 2 Go because they offer smaller containers that would be good for things like mashed potato bowls."
Novak said the campus isn't taking anything away when they implement the OZZI system.
"[We're] just adding a way to be more sustainable," Novak said. "It's just more options."