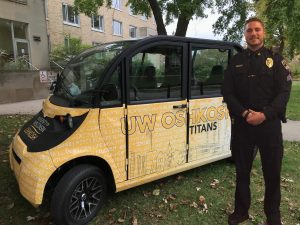 A Saferide program, which would offer students the option to be given a ride to their destination instead of the traditional Safewalk option, is still in the testing phase at UW Oshkosh.
The idea behind it, as Captain Christopher Tarmann of the UW Police Department said, is to be more efficient in the process of facilitating safe movement of students throughout campus.
"Right now we have Community Service Officers that walk to get people from point A to point B, and it just takes a lot of time," Tarmann said.
The UPD has decreased the response time of Safewalk requests by putting CSOs on bikes, according to Tarmann. However, the icy and snowy conditions that winter brings put the brakes on that option.
While the Safewalk option has been discussed for quite a while, the recent addition of an electric vehicle purchased by the Student Health Center, which has agreed to work with the UPD on developing a consistent schedule to share the vehicle, has made a program like Saferide much more realistic, Tarmann said.
Moreover, new approval for a license recognition system for parking on-campus will bring yet another vehicle to campus, usable for Saferides, according to Tarmann.
"Once that vehicle is in place, we can use that vehicle to do Saferides more consistently, and then we can set a weekly schedule," Tarmann said. "We would like to have Saferides available every day of the week when school is in session, if possible."
Another possible benefit to the Saferide program, as Tarmann said, is the option of expanding the service area to include locations further away from campus that students tend to frequent.
"We might actually be able to expand how far we go," Tarmann said. "Right now we go five blocks off of the edge of campus, and if we go ten blocks that might be better."
According to Tarmann, the already popular Safewalk program averages about 700 safewalks a year, giving good reason to expand upon the existing program.
Saferide would be offered to the same audience as Safewalk, Tarmann said, including students, faculty, staff and even guests of students on campus.
To use the program when it becomes available, students will be able to either call the UPD or request a ride through the UWO mobile app, where students can chat real-time with a dispatcher, according to Tarmann.
Junior Ally Chard said she thinks the Saferide option will make the program even more attractive to students.
"I think people will be more apt to use it, because you can get to where you're going so much quicker," Chard said. "It is kind of like a campus Uber."
In light of recent events on and near campus, Chard said she is a little more leery about walking around campus by herself, especially as a woman; however, she is reassured by the UWOPD's response to such events.
Having never used Safewalk herself, Chard is particularly interested in the Saferide option.
"They always talk about how wonderful it is, and I'm sure that's true, but I do think that it is a little strange to call that number and walk with two people," Chard said. "That's why I'm really excited about this car option, and I'd be way more into using it. Both options are safe; one is just a lot less intimidating."
Chard said she believes the Saferide option would be yet another perk to advertise about UWO, making the campus appear safer for not only prospective students, but also to their families.
"It would be just another thing that encourages prospective students to consider Oshkosh above other schools," Chard said.
Senior Derek Endries said that he thinks the Saferide could be a great option for students, especially during colder winter months.
"I think it would definitely enhance student safety," Endries said. "Students wouldn't have to worry if they were somewhere far from campus and needed a ride back."