History majors showcase WWI
[media-credit name="Nikki Brahm" align="alignleft" width="242″]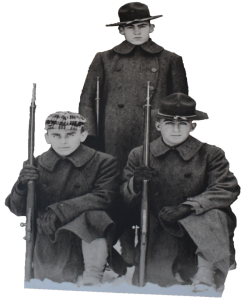 [/media-credit]
UW Oshkosh students created a commemoration project for the 100th anniversary of the United States entering World War I, where they set up cardboard standees around the Oshkosh community.
The standees include photos of people from the Oshkosh community during World War I and include interesting facts. The cutouts are located around various Oshkosh venues such as the Oshkosh Public Library, Polk Library, the Senior Center, the Experimental Aircraft Association Museum and Main Street.
Gabriel Loiacono, a UWO history professor, joined the Board of the Oshkosh Public Museum and got involved with the World War I Commemoration Committee.
Loiacono said they were brainstorming ideas about how to commemorate the 100th anniversary of the US entering World War I, since the US declared war in April of 1917 and was at war until November 1918.
"There's some lectures at the public library, there's going to be a photo exhibit at the public library, UWO is going to have some type of scholarly symposium on World War I next fall of 2018, and then I thought a standee would be a really cool idea," Loiacono said. "Just to put pictures of real people from Oshkosh out into the community as a way to help people remember this anniversary and reflect on history."
Senior Beth Potter and alumnus Chris Gauger worked on the project together. Potter said they had to do a lot of research mostly through the online archives through the Oshkosh Public Museum, looking on their database and searching for keywords.
"It was a little different for this project because we weren't only necessarily looking for information that was interesting, we also needed a picture," Potter said.
The work was split differently between both students.
"I did mostly people from domestic settings, so people that weren't necessarily involved in the war," Potter said. "Chris focused more on service members because his interests were mostly in military history."
Potter said she was stunned by how hardworking everyone she came across was. Potter said she researched Sarah James, a women's rights activist whose home is still located on High Avenue, as well as Tina Johnson, an immigrant and house servant.
"Eli Rice, he worked so many jobs," Potter said. "He was a shoe shiner here in Oshkosh, he was an announcer here for the games, he was an avid spokesperson for African-American rights and he had a band in which he performed throughout Oshkosh and actually throughout the nation."
Gauger said military history is one of his favorite subjects and he researched soldiers and sailors who served during World War I.
"I was thrilled by the accounts of their military experiences and even extraordinary events in their civilian lives," Gauger said. "One of the soldiers I researched, Emil Kraning, had survived the sinking of his troopship when it was torpedoed by a German submarine on the way to France. Another soldier, James Regnery, had three cousins who served in the Imperial German Army during World War I."
Gauger said he thinks the project will help the local community understand the important roles that people from Oshkosh played during World War I, and it will help them develop a closer connection to their city's history.
"Perhaps some people today might discover that some of their ancestors served during the war in some capacity," Gauger said. "I hope this project will help people understand that ordinary men and women can influence history in their own ways. I also hope that this project will help people understand how the past shapes the present so we can make sense of the world today and better influence the future ahead."
Potter said she was glad the project was on World War I because the further you go back in history the more people are going to forget because it's not in recent memory.
"So in World War I we saw that everyone came together for the first time to fight this conflict and we really gained a sense of community with our nation and within our certain community here in Oshkosh," Potter said.
Gauger said the most rewarding part of the project for him was conducting historical research and presenting it to the public.
"I believe I have developed as a historian because of my work for this project," Gauger said. "I also feel satisfied to have helped educate the public about one of the most important events in American history and world history."