Elliott sisters wrap up their journey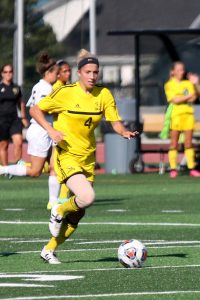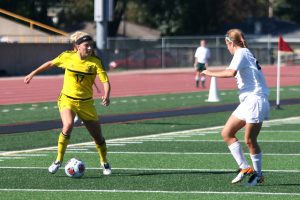 If it was not for then-eight year-old Robyn Elliott attending a summer school class named 'Soccer Fun,' and dragging her twin-sister, Rachel Elliott, to a tryout a week later, the Elliott soccer journey may have been written differently.
In 2013, Robyn and Rachel took their talents to the UW Oshkosh after four outstanding years at Hamilton High School in Sussex, Wisconsin.
The thought of going separate ways crossed the minds of the Elliotts, but they both knew if they stayed together, they could create something special at UWO.
"Before coming to [UWO] we had discussed going to different schools," Rachel said. "I don't think I would've survived without my best friend suited up next to me on the field."
During their time at Hamilton High School, both Robyn and Rachel played on the varsity girl's soccer team all four years. They received all-conference awards and honorable mentions.
Robyn was named a three-time captain, a second-team all-conference defender, a first-team all-conference midfielder and received an honorable mention.
Likewise, Rachel was named to the second-team all-conference team and first-team all-conference twice. She also has an honorable mention under her belt.
Rachel said UWO women's soccer head coach Erin Coppernoll was the deciding factor in her choosing to continue her education and soccer career at UWO.
"I chose to play soccer here because I loved all of the opportunity and room for growth that coach Coppernoll saw in me," Rachel said. "She always believed in me as a player and a person and I can't say the same thing about the other coaches who were recruiting me."
Robyn said Coppernoll has given her the confidence she needs.
"She believed in me and my abilities before I came here, which I think enforced my own belief in myself," Robyn said.
Coppernoll said the Elliott twins have made a tremendous impact on the soccer program.
"I think they care deeply about the success of this program and do everything they can to make this program better on the field and off," Coppernoll said. "They are overall wonderful human beings."
The connection with Coppernoll might have stemmed from her previous tenure at Hamilton High School.
"I first met the Elliott twins when I was at a high school game of theirs during their junior year," Coppernoll said. "I was there to watch a senior on the other team but their play caught my eye. I used to coach at Sussex and knew the coach very well, so I got their contact info and the rest is history."
Since joining the Titans in 2013, the Elliotts have combined for 37 goals, 24 assists, 118 games started and 140 total games played.
But the most prestigious accolade the Elliotts have achieved was in 2014 when UWO defeated UW-Whitewater 1-0 to win the Wisconsin Intercollegiate Athletic Conference women's soccer tournament, Coppernoll said.
"There were some big games during the WIAC Championship run in 2014 that they played huge roles in those victories," Coppernoll said.
The Elliott duo also led the Titans to a regular season WIAC championship in 2015. This was the first regular season championship in school history.
Robyn was named first team All-WIAC in 2013, 2014 and 2015. She also received second team All-Regional in 2013. Rachel was named first team All-WIAC in 2014.
Rachel and Robyn have found success on the pitch in part of the sibling connection they share.
"Playing with my sister is one of the coolest things in the world," Robyn said. "We are able to read off each other and feed off the other one's energy."
Rachel added how confident it makes her knowing Robyn is on the pitch with her.
"I love playing with Robyn because she is such a skilled player," Rachel said. "I know just where she is going to play me the ball. We have a twin-telepathy when it comes to playing. We can read each other without saying anything, which makes us dangerous."
However, such as any sibling relationship, the Elliotts do not always see eye to eye with one another due to their competitive nature.
"Every now and then you'll hear us bicker about a pass, but it blows over quickly, just like our fights off the field," Rachel said. "They last for a combined five minutes at most."
Aside from the sibling altercations, Rachel said Robyn is the sole reason she continues to play soccer at such a high level.
"The person who has influenced me to keep playing is Robyn," Rachel said. "[She] makes me want to keep going even when I felt like stopping. I aim to be as hard of a worker like her. She shows me each day that soccer has so much to offer and I am so glad she brought soccer into my life all those years ago."
Rachel and Robyn are now in their final chapter of their journey as members of UWO's women's soccer team. The legacy the Elliott sisters have created for themselves will never be forgotten.
Their plans after school and soccer are done entail finding suitable jobs for themselves. They hope to use the skills learned from playing soccer such as being a leader and communication to their advantage in the work force.
"They have changed this program for the better in so many ways," Coppernoll said. "They are excellent role models of Titan student athletes.""