Soccer ends season in WIAC playoffs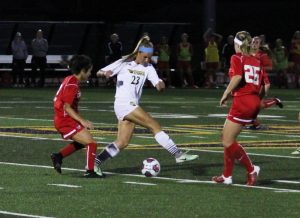 The UW Oshkosh women's soccer team concluded its 2017 season after falling to UW-Whitewater in the Wisconsin Intercollegiate Athletic Conference semifinal by a score of 3-1 last Thursday in Whitewater.
The Titans capped off their season with an 8-8-4 record overall and a record of 3-1-3 in the WIAC conference this year.
The Warhawks poured on the offensive attack early and often on Thursday after winning the shot battle by a count of 19-5.
The first score came in the 14th minute of play after Whitewater forward Emily Mouille scored off a deflected save attempt by UWO junior goalkeeper Jessica Galason. The first half ended with Titans down 1-0.
The Warhawks continued to show their offensive attack after knocking in the second goal of the match after UWW forward Marie Lesperance scored in the 52nd minute of action.
However, the Titans countered when a goal from UWO junior midfielder Alexis Brewer found the back of the net in the 54th minute to cut the Titans deficit in half. Brewer's fourth goal of the season was assisted by UWO freshman midfielder Addie Schmitz.
The Warhawks scored the final goal of the game when Whitewater forward Anna Boyd scored in the 89th minute of play to cap off the 3-1 victory for the Warhawks.
The loss eliminates UWO from further competition in the postseason.
UWO head coach Erin Coppernoll said the opportunities were there for the Titans and the execution needed to be better in order for the Titans to come out with a win.
"In the first half we got behind them more," Coppernoll said. "Their goalkeeper made a couple really nice saves; we had our chances and just couldn't put them away."
Despite defeating UW-Whitewater in the regular season 1-0, Coppernoll said she believes the Titans put forth a better effort in last week's semifinal game than they did in their regular season victory.
"I think we played better against them on Thursday than we did previously in the regular season," Coppernoll said. "It was a good game. It was very close with the attack coming from both sides."
Galason said she was proud of the way her team performed considering the talent the Warhawks bring to the table.
"Even though we didn't get the result we anticipated, we put everything we had into that game and put up a fight despite the scoreboard," Galason said. "We were able to compete and get a goal and pass around them. It was cool to see that we are able to compete against and score on a nationally ranked team."
Senior Felicia Retrum said becoming a student-athlete at UW Oshkosh has prepared her for the world outside of the soccer field.
"Being an athlete truly prepares you for the real world," Retrum said. "It's more than just kicking a ball around. I believe that I have learned life lessons I wouldn't have learned if I hadn't been a student athlete."