Men now 18th after victories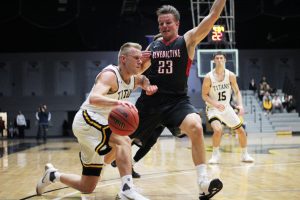 The UW Oshkosh men's basketball team went 3-0 this past week after defeating St. Norbert College, Edgewood College and North Park University (Ill.) to improve the Titans record to 4-0.
Fravert, Wittchow lead UWO to win over North Park
Most recently, UWO defeated North Park University by a convincing score of 71-58 on Tuesday night in Chicago. UWO sophomore Adam Fravert and junior Brett Wittchow led the Titans in scoring with 15 points each.
Wittchow also led the team in rebounds, grabbing 11 boards for UWO. Fravert, who's averaging a double-double with 14.8 points and 11 rebounds this season, also added to the Titans rebounding with eight boards.
Fravert said the coaches at UWO do a good job of putting players in positions to succeed and it leads to unselfish basketball.
"We're finding success because we're playing really hard on defense and being unselfish on offense," Fravert said. "Going into our games, the coaches do a nice job of letting us know what type of players we're going to be guarding and their sets."
After their first four games, the Titans are shooting 42.3 percent from the field. Conversely, UWO is holding its opponents under 40 percent from the field with the Titan defense allowing opponents to just 37 percent from the field.
UWO outscored North Park by seven points in the 2nd half, scoring 43 points in the second half to give the Titans the 13-point victory.
UWO head coach Pat Juckem said that while they know there is room to grow, the Titans are putting themselves in great opportunities to win games.
"We have a long way to go this year," Juckem said. "We're putting ourselves in position to be successful and we just need to keep focusing on getting better each day."
Titans defeat Edgewood
On Wednesday, UWO took on Edgewood College and defeated the Eagles by a convincing 78-66 score. Fravert played his best game as a Titan after the sophomore scored a career-high 22 points and earned a double-double after adding 15 rebounds.
While the game was close at half with the Titans holding a one-point lead over the Eagles, 37-36, UWO got off to a hot start after the team scored 13 of the first 16 points in the second half to make it a 50-39 UW Oshkosh lead.
UWO took advantage of every opportunity given to it, scoring 15 points off Edgewood turnovers compared to Edgewood scoring just four points off of UWO turnovers.
UWO junior Alex Van Dyke contributed well off the bench after the forward played his most minutes on Wednesday night and contributed four points and four rebounds for the Titans.
Juckem said this UWO team may look a bit different than previous teams with a lot of size on the roster, which gives the Titans an opportunity to take advantage of depth at the forward position.
"We're a different team this year," Juckem said. "In the past we've been a very guard-oriented program. We have more length this year with Jack, Adam and Alex Van Dyke off the bench."
UWO beats St. Norbert
The Titans were able to come out on top against St. Norbert in a close matchup, as UW Oshkosh defeated St. Norbert 60-57 on Tuesday, Nov. 21.
UWO found itself ahead at the end of the first half after leading St. Norbert, 23-22. The Titans, who out-rebounded St. Norbert 44-34, ended up outscoring the Green Knights in the second half, 37-35, to lead UW Oshkosh to victory.
UWO junior Ben Boots played well UWO in clutch moments, scoring seven of his 14 points in the final three minutes of the game. Boots is currently leading the team in points and assists, averaging 16 points and 4.3 assists per game.
Fravert showed his presence in the post after the forward grabbed 10 rebounds and completed the double-double by adding 17 points. The sophomore forward is leading the starting five in field goal percentage, as the big man is shooting 47 percent from the field this season.
UWO senior guard Charlie Noone said it's important for the team to focus on day-to-day improvements early in the season.
"I think we're really just focusing on ourselves and trying to get just a little better everyday," Noone said. "We really try to isolate things we need to get better at and attack those things every day."
UW Oshkosh hosts second-ranked Augustana College (Ill.) on Saturday at 7 p.m.