One strong start for Oshkosh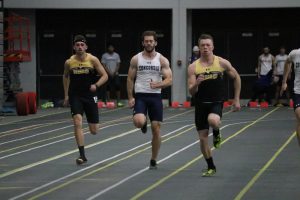 In its first meet of the season, the UW Oshkosh track and field team dominated the competition after earning first place in the Titans' Early Bird Invitational held Saturday, Dec. 2 in Kolf Sports Center.
UWO was able to compile 240 points in the team competition to easily defeat its seven visiting opponents. Carthage College came in second to the Titans with 86 points while Carroll University received third place with 77 points.
UWO senior Joe Zack and junior Ryan Powers each earned a nation-best mark with times of 4:09.21 in the mile run and 22.01 seconds in the 200-meter dash, respectively.
Powers set a UW Oshkosh record with his run, eclipsing the previous school mark of 22.27 seconds recorded by AJ Hollanquest in 2006.
The Titans had four other winners on the track as UWO freshman Erik Schwandt won the 60-meter dash with a time of 6.99 seconds and junior Morgan Malm took home first in the 60-meter hurdles with a time of 8.51 seconds. Freshmen Mitchell Kudick and Lucas Weber each took home first place as Kudick won the 800-meter run in 2:04.52 and Weber won the 3,000-meter run with a time of 8:46.21.
UWO competed well in long distance events, sweeping the top six places in the 3,000-meter run and the top five finishes in the 200-meter dash.
UWO assistant coach Eamon McKenna said the performance on Saturday gave him and the rest of the coaching staff a tremendous amount of confidence heading into the new season.
"We were very pleased with the performance on Saturday at our meet. As always, there are positives and negatives with a team so big, but for the first meet of the year, we came away with a lot of quality performances," McKenna said. "All these strong performances make us very excited for the upcoming season."
Zack said he is proud of his accomplishments, especially at an event such as the Titans' Early Bird Invite.
"It feels great to have a [personal record] in the mile, especially so early in the season," Zack said. "My previous PR was in the mile final at indoor nationals last year, which is essentially the strongest field I saw all year, so to do that in the environment that I did in the Early Bird meet is a good sign moving forward."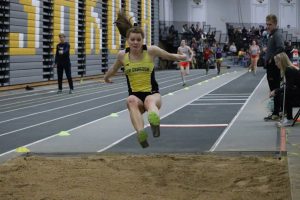 Powers said while he wasn't focused on breaking records, he was aware of what time he needed to achieve on Saturday.
"It felt great breaking the school record," Powers said. "I wasn't shooting for a time or expecting to break the record going into the race … I was only trying to win, but in the back of my mind I knew what time I needed to run to have my name on that board."
McKenna said both Zack's and Powers' performance impressed the coaching staff with their times this past weekend and notes that for these two, the success has only begun.
"Those two are likely to qualify for Nationals with those performances, which is exciting for them to get a qualifying time so early in the season," McKenna said. "Both Ryan and Joe obviously started the season on a great note, but both of them know that this is just the beginning."
McKenna said focusing on the ultimate goal and keeping up with a routine schedule will further their success.
"The next step is to stay in a good routine, stay healthy, take care of their bodies and continue to train in a way that allows them to grow in the coming months," McKenna said.
UWO has a long break before next competition as the Titans will compete on Jan. 13 when it hosts a three-team meet in Kolf Sports Center.