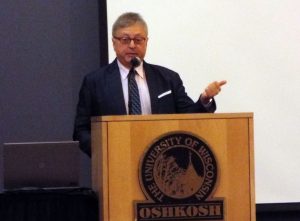 Executive producer of three Batman films, Michael Uslan, appeared as the first keynote in the UW Oshkosh's speaker series to inspire students to plan for the future, but follow their childhood dreams.
The speaker series holds several events throughout the school year, hosting a diverse group of people with varying stories and experiences.
Student and committee member Katie Becker explained why they chose Uslan as part of the series.
"He has a really cool story about how he got into his career and how his education and going to college has helped get him to where he is today," Becker said.
Uslan spent most of his childhood adoring comic books and has since turned his passion into teaching the first-ever comic book course taught on a college campus, producing the first and many other Batman movies and writing a memoir, "The Boy Who Loved Batman," as well as several comics including "Batman," "Archie and Veronica" and "Lone Ranger/Green Hornet."
Several students were lined up for the event well before it started, waiting for the doors to open. Senior Ashley Stewart expressed her anticipation for what was to come.
"He's like an idol and everything I'd want to be, it's really intriguing to see how he started [this] trend," Stewart said. "It's weird to think of cinema without Batman movies."
During his speech, Uslan said his career all started based on a dream.
"So what do you do?" Uslan said. "I wanted to write comic books and make dark and serious Batman movies. I'm a blue-collar kid growing up in New Jersey. So how do you get there from here?"
His journey to Hollywood surely didn't come overnight; it took rejection from several people to get where he is now.
"There were no laptops and I wrote down the names of every single executive I could find having anything to do with movies or TV," Uslan said. "At the end, I had a list of 372 people that I could send my resume to. I sent out 372 resumes and got two job offers."
Uslan said fetching coffee as a producer's assistant for $95 a week wasn't exactly on his radar, but he knew he had to start somewhere.
"Plan B, always have a Plan B," Uslan said. "And a Plan C and a Plan D because life never works out how you think it's going to work out."
Part of Uslan's Plan B was the law degree he obtained while struggling to follow his true passion, but he didn't want to become a lawyer.
"I'd rather be delivering pizza for Domino's," Uslan said.
Through connections that Uslan had after gaining international news coverage for being the first to conduct a course on comic books in college, Uslan called up the president of DC Comics, whom he had formerly interned for a few years before, and decided that he would buy the rights to Batman so that he could pursue his dream. When he proposed the idea, he was told that the brand is dead; Nobody was interested in Batman anymore.
Uslan thought otherwise and with six months of negotiation, the rights became his, and he headed to Hollywood.
"I was turned down by every single studio in Hollywood," Uslan said. "They told me it was the worst idea they'd ever heard. 'They said Michael, you're crazy…You can't do serious comic book movies based off an old television series; that's never been done before.'"
However, the dismissals Uslan faced didn't stop him from continuing to pave a path toward success.
"It took 10 years of everybody telling me that I was crazy, that my ideas suck, ten years of rejection," Uslan said. "So here's the point, and it took me a lot of years to figure this out: If you don't believe them when they tell you how bad you are and how terrible your work is, and believe in yourself, you're going to do okay."
Uslan later opened the floor to the audience to ask questions. When asked what gave him the drive to continue on during the time where everything seemed to be going against his plans for the future, Uslan said, "A great support system."