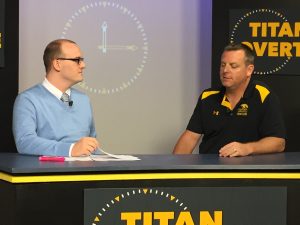 In the week leading up to Titan Overtime, showrunner Hunter Magdanz will tell you he only got four hours of sleep.
Taping for the debut of a new sports studio production show at Titan TV caused Magdanz to spend the last week hustling around, making sure that all the sets, scripts and sport snippets were ready when the cameras started rolling.
Titan Overtime is a new sports talk show being put on by the campus TV station at the UW Oshkosh. It is the first time the station has premiered a sport-centric show in more than 10 years, and with Titan athletics being arguably at an all-time best, it created a perfect storm for Magdanz to create Titan Overtime.
Using video packages similar to something that could be seen on Big Ten: The Journey or Hard Knocks, and having coach and player interviews, along with friendly debate is what the format of the show is comprised of.
The studio has a serious feel to it as a black backdrop with the program's logo on the left and right side sits behind a news desk. A large clock missing its numbers hangs in the middle of the background, which peeks behind program hosts Nick Bode and Ryan Grabig while they sit at the desk.
Every detail has been carefully laid out, including the placement of the center clock's hands.
"12:15 represents Dec. 15," Magdanz said. "That's the date of the [Division III] National Football Championship game. I guess you could say we are branding ourselves a little bit. Then we wanted to kind of keep the same game with UWO so that's why we have the black desk and the stripe of yellow and then went with like a bluish-gray for a desktop."
Up in the broadcast booth, the crew waited tensely for the clock to turn to 1 p.m, when they would begin the live-to-tape show.
"Once we got into the flow of the show, everything just went super smooth," producer Alex Loroff said. "Everyone was kind of joking and having a good time up there. I was kind of nervous about being in control, but once we saw how smooth everything was going, everyone just relaxed because they knew what they were doing. They were very loose and very jovial."
The sound of relief of having the first episode over with is clear in Magdanz's voice. His vision has made it to the screen.
"I honestly almost got sick before the first show because I was just so nervous about making sure that everything was right and everybody was in a position to be able to do their jobs the best they could do," Magdanz said. "That's kind of my role as executive producer, at least I view it as. I need to put all of my crew and my two producers in the best position to succeed, so I was so nervous about it."
However, when asking Magdanz to talk about the success of the first show, he'll give a quick shrug and answer modestly, "I am only one part of this team."
The team Magdanz refers to consists of Loroff and Jordan Fremstad working behind the scenes as producers for the show, and Bode and Grabig hosting the program.
Titan Overtime comes at a moment when the Oshkosh football team is third in the nation in NCAA D-III sports. Their first episode came days after the football team defeated UW-Whitewater, a long-dominating program both in the Wisconsin Intercollegiate Athletic Conference and in the nation.
"I'm not sure if the show would have been as much fun to do if we were here 15 years ago in Oshkosh when the football team was 3-7 and the team was getting blown out of the stadium, but when you are the number three team in the nation and all your other athletic programs are doing really well, well it's fun," Bode said. "We're kind of in a golden age of Titan athletics and it's such a really cool time to get to document that."
Today, when it feels like the media is filled with sports talk shows, with men and women crowding a table, yelling to get their opinions and team picks across to one another, what separates Titan Overtime from the rest of the shows is perspective and opportunity.
"At UWO, teams don't really get press conferences with these coaches and so it's kind of an untapped gold mine of these guys who want to talk," Bode said. "They're very proud of what they do, they work really, really hard and they deserve to be interviewed."
Even sports that are not typically highlighted often on sports channels like hunting and fishing will be featured on Titan Overtime. The show will also keep its unique perspective by interviewing the city manager to discuss what a city has to go through to build an arena, like the new Bucks G League arena. No idea or segment is too strange or anomalous.
"We're going to have pieces where we talk about recovery of athletes who have ACL surgeries and I think they're actually going to put me through physical therapy for that kind of recovery," Bode said. "We want to see how difficult it is to come back from that. I think it was just kind of brain child to do something really unique and interesting we want to try out."
For this generation of soon-to-be graduates, early on in their childhood, ESPN has been plastered on television screens by stereotyped fathers trying to hold onto an ounce of freedom by watching his favorite team(s) play. Having these shows placated in their minds have made for a permanent affection for sports, possibly even making individuals want to get into the market of sports journalism when heading off to school.
When the guys behind Titan Overtime graduate in the next semester or two, they will be applying for jobs in the competitive television job market. They are going to need to demonstrate what separates them from the rest of the bright-eyed and hopeful sports journalists hoping to do the same thing they want to do.
"You're not going to be able to graduate and go right into producing something," Loroff said. "You're going to be running the teleprompter somewhere, I want to get that experience here before I graduated so that I kind of know how the process works. Then, hopefully down the line when I get in this position again in a more professional level, I'll be more prepared than I would be if I wasn't doing the show."
Trying to differentiate from the rest of the crowd of shows is also much easier when the crew and cast get along so well and can bring different skill sets to the table.
"It was just kind of the perfect storm," Bode said. "We have brought together a really good team of guys. Jordan is incredible with camera work, Hunter knows sports history pretty well I can write pretty well, and Alex Loroff has broadcast a bunch of games. He's a great guy that knows sports schematic."
The guys are taking working on the show seriously and after listening to each of them, it is clear they respect the hell out of each other.
"We do about 10 minutes of actual work followed up with 15 minutes of this nonsense where we are talking about whatever, just making jokes and cracking up each other up," Loroff said. "We really like each other so long we're all working on things and it's really nice that we all have a sense of humor."
During the interview with Bode, his phone let out a faint chime. "Hey, do you mind if we tune into the broadcast? It is just starting." Locating the nearest TV, he changes the channel to 57 to find the end of a video package wrapping up. The final scene from the football game highlights fades into black, and Bode and Grabig appear on the screen.
Bode reaches for his phone and starts taking photos of the screen with excitement clearly plastered all over his face. Perhaps he'll look back on these photos of Titan Overtime as the beginning of his career.
"Oh shit," Bode said pointing to the screen. "This is the dream."