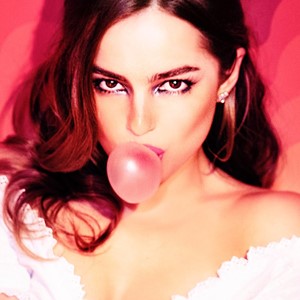 2023 has certainly proved to be an interesting year so far for music, and may even be a defining year in the industry. 
Between many beloved artists releasing new music, trying out new genres and entering new controversies, a cultural shift has begun to emerge in mainstream music.
Besides sampling old pop hits, there hasn't really been  any definitive trends this year for music. Not yet anyways, with Olivia Rodrigo's new Paramore-esque album.
TikTok's recent obsession with Ayesha Erotica, and the disappointment of the new Timbaland featuring Nelly Furtado and Justin Timberlake single, it's clear that we're craving that addicting Y2K pop/club music and in desperate need of a pop princess savior. 
As it turns out, trendsetter and internet personality Addison Rae might be the perfect girl for the job. 
Last month, the TikTok sensation dropped her first album, a self-titled EP fit with five pop bangers and a fitting "girl-next-door-gone-bad" album cover.
Considering the incredible resilience of the Y2K trend in the fashion space, it's about time that it spread to the music industry. 
Somebody just needed to do it first, and do it right it's no surprise that a Y2K fashion pioneer would be the one to bring it to the music scene. 
I got it bad
Rae opens her debut album perfectly with this fun and flirty track, reminiscent of Y2K pop idol Britney Spears in both musical production and lyrics such as "He calls me late at night and he calls me 'baby' / If you knew how blessed he was you would probably hate me."
2 die 4 (feat. Charli XCX)
Pop staple Charli XCX is featured on this much anticipated song after it was leaked about a year and a half ago on TikTok and quickly gained popularity. This is partially because of  the catchiness of the song, but maybe you'll remember the iconic misheard lyric "this pum pum / to die for". (Side note: It's actually "this boom boom bass to die for," but admittedly pum pum is a lot more fun to say.)  
Nothing On (But The Radio)
In this tantalizing retro pop tune, an unreleased song from the queen of pop herself, Lady Gaga, Addison takes her chance to show off her impressive vocals. Both the usage of "radio" and the sneakily suggestive lyrics remind me of a song I would sing along to, oblivious, in the back of my mom's minivan in the early 2000s. 
it could've been you
Rae wraps up the album with this addicting break-up anthem, adding layers of guitar, drums and bass for a more rock 'n' roll sound reminiscent of earlier Avril Lavigne. The similarities continue in her fiery lyric, "Now I don't wanna make up, I'll make out / with somebody new / it could've been you." Besides making you want to get up and dance, this song will make you want to break up with your boyfriend instantly. 
While Addison Rae may not be a seasoned musician by any means, she is somebody who knows what her audience wants and has both the talent and tact to give it to them while still staying true to herself and her brand. 
That's a feat in its own right, especially for her first album. 
It will be exciting to see how she'll influence other artists and how she will continue to grow as both an influencer and now a singer.