The Clash Collective Thrift Shop, which offered UW Oshkosh students over 1,700 donated items to choose from in spring, earned national recognition last month. 
The New Student and Family Programs (NSFP) planned the event that took place in Reeve Memorial Union.
The staff of NSFP that planned the Clash Collective Thrift Shop attended the National Association of Orientation, Transition and Retention Conference in October. 
NSFP staff earned the Innovative Program Award for their creation of the Clash Collective Thrift Shop. 
Stacy Dreweck, manager of NSFP, at the Oshkosh campuses was one of the team members who helped put together the event. 
"We have noticed that there are students coming to campus with basic needs and insecurities," she said. "UWO already has resources for food, hygiene and professional clothing, but what about everything else? That is where our idea for the Clash Collective Thrift Shop came about."
Students were encouraged to leave donated items in stations placed around campus, especially in dorms, where students getting ready to move out could give their unwanted stuff a new home.
"The NSFP team collaborated with Residence Life and Sustainability to create donation stations in Residence Halls and at the Student Involvement Desk in Reeve," Dreweck said. "We collected items from the donation stations on campus then sorted and organized items as they came in."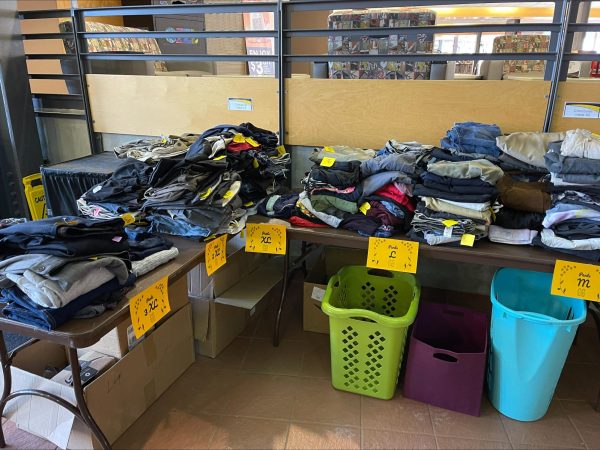 The NSFP staff that helped plan the event traveled to the conference in Minneapolis to accept the award, alongside other professionals. 
"This conference is for higher (education) professionals throughout the country who work in orientation, transition and retention," Dreweck said. 
Dreweck was proud of the award, especially with the competition of many different organizations.
"There were so many other great programs nominated from colleges and universities across the country," she said. "To have stood out to the selection committee among the other nominees was thrilling."
Emily Brooke, manager of NSFP, and NSFP director Alicia Stuedemann were also very proud of the national recognition.
"The moment it was announced, Alicia and I embraced in a hug and started tearing up," she said. "We deeply care about students and their well-being, and our team truly poured our hearts into this event. It was so amazing to have that hard work acknowledged on such a large scale."
Brooke also worked with Dreweck on the event and was happy to celebrate with her. 
"I ran up to Stacy (the heart of this project) who was seated at a different table and gave her a huge hug as well. This event could have not been possible without her tireless dedication," she said.
Even though NSFP earned national recognition, Dreweck was more proud of what they did on campus. 
"The national recognition is great, but we are grateful we had the opportunity to create an initiative that has made an impact on so many students right here at UW Oshkosh," she said.
Students were able to find basic necessities without having to spend anything.
"Some students we talked to had mentioned they did not even have sheets on their bed in the dorms, and this event allowed them to get those items for free," she said.
The event helped give students access to needed items and give them support.
"Students were overjoyed to take home free items, and it was very fulfilling to know that this event made a difference and provided support to students," Brooke said.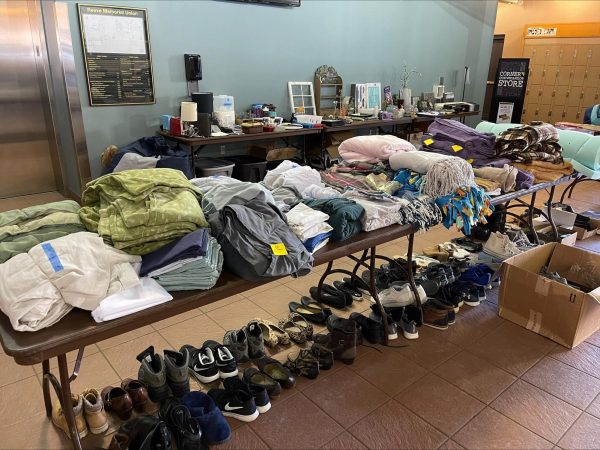 The next Clash Collective Thrift Store event is planned for Feb. 6 and 7, and donation stations can be found throughout campus to help provide inventory for students. 
"As donations come in, we plan to sort, organize and inventory items so students can easily sort through items to find their five free items per day," Dreweck said.
Dreweck said the event is a great opportunity for students to donate, and there are donation stations set up in Reeve and the residence halls.
"This event provides an opportunity for students to donate unused items that may have otherwise ended up in the trash," she said. 
The event in spring is open to all students.
"The Clash Collective Thrift Shop is open to all students regardless of financial need," Dreweck said. "But we know that it gives students who could really use the hand-up a chance to get great things without having to self-identify as in need of assistance."