No fear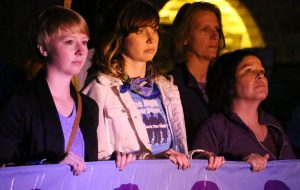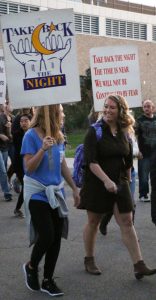 Hundreds of people marched at the Fox Valley's Take Back the Night event to raise awareness, support survivors and remember those lost to domestic and sexual violence.
UW Oshkosh hosted the event at the Alumni Welcome and Conference Center on Oct. 5. Take Back the Night has been on campus for 26 years.
According to Alicia Johnson, the director of the UWO Women's Center, the event has evolved over the years to recognize all forms of violence.
"This event really started focusing on gender violence, but more so on violence experienced by women," Johnson said. "Now as we have broadened the event, we highlight how people of all genders are victims or survivors of sexual violence and that these same resources and support are available to everyone."
Leslie Wartgow, the Campus Awareness for Relationship Education adviser on campus and one of the coordinators for Take Back the Night, said the event began as a women's movement, but has progressed into a community movement that focuses on all forms of gender violence, domestic violence and sexual assault.
"It's one night for the community to come together and take back their community," Wartgow said. "For a lot of victims and survivors, it's coming together with people who are going to be supportive of whatever they've been through."
Johnson said Take Back the Night has plenty of resources for violence victims.
"It's really good for people to know of the available resources in case they come across a survivor or victim or if they become one in the future," Johnson said. "There are a lot of community programs. There's the [Sexual Assault Nurse Examiner] nurse program at Aurora Health Care, and that's a really great service."
According to Ambir Dorn, a registered nurse at Aurora Health Care, SANE has a table at Take Back the Night every year, but also offers sexual assault exams to victims.
"If somebody would like to come in and have an exam done, whether they're reporting sexual assault to the police or not, we offer medications, Plan B and a head-to-toe physical to make sure that they're not injured in any way, shape or form," Dorn said.
According to Dorn and her fellow RN Michelle Thede, the key message of this event is to remind people it's OK to speak out and make sexual assault a known issue and to prevent violence as well.
"The importance of this event is to bring awareness to the community," Dorn said. "And to pass on the message that this is a problem that needs to be addressed."
According to Wartgow, Take Back the Night shows survivors they are not alone.
"We want them to come forward," Wartgow said. "We want them to feel safe, and we want them to get the help that they need to get out of those kinds of relationships."
Wartgow said seeing how many people are committed to helping victims of violence is really exciting for her.
"Every year you hope that whoever needs help is going to get help and that they're going to see that there are so many resources and people that care," Wartgow said. "And that they can reach out for what they need."
According to Johnson, Take Back the Night sends a powerful message to victims of violence.
"To come to this event as a survivor and see all these people here rallying around a cause that you're directly affected by can be an empowering experience," Johnson said. "Whether they reveal that they're a survivor or not, it's something for them to take away, and it's something that we can all participate in together."
Johnson said she appreciates that Take Back the Night raises violence awareness.
"It's a great way to raise awareness and to open the conversation about sexual violence or gender-based violence," Johnson said. "Hopefully, we can continue that conversation throughout the year."
Wartgow said events like Take Back the Night are important not only to violence victims, but also to community members.
"It shows that the community is committed to ending gender violence," Wartgow said. "It's not just one small group of people. Every year we get 400 to 500 people that come in."
According to Wartgow, the Take Back the Night committee put a lot of effort to get the community involved in this year's event.
"We want them to know it's not just a campus event; it's for everyone," Wartgow said. "It's always been the community and campus, but we really pushed harder this year to make sure the community knows that it's a community event."
Senior Trina Do said students understand the message and importance of Take Back the Night.
"It shows [survivors] support and lets them know that they're not alone," Do said. "They don't have to deal with anything by themselves."
According to senior Kayla Leavitt, students are aware of how much events like Take Back the Night help victims.
"It gives them ideas for resources that they can use to help them get out of the situation that they're in," Leavitt said.
Senior Sydney Krimmer said students should consider coming to next year's Take Back the Night.
"You never know who this might help," Krimmer said. "Eventually you may use this information, and it's good to know."
[huge_it_slider id="2″]