Underground extends hours for alcohol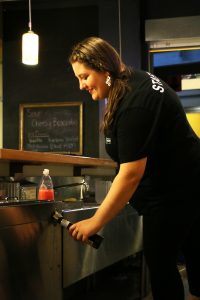 With a new school year comes many changes and, for the Titan Underground, one of this year's changes was adding new alcoholic and non-alcoholic beverages to their selling list, as well as extending the times when students can purchase them.
Prior to this year, alcohol could only be purchased on Sundays, Tuesdays and Thursdays after 4 p.m.
Sophomore and Titan Underground employee Jeanine Carroll said alcohol sales suffered due to the restrictions.
"We just had no sales," Carroll said. "Last year we had our karaoke night and open mic night on a Wednesday, and it was at night but we didn't sell anything. We had older people from the community come in and do karaoke, but they couldn't order any alcohol and they told us, 'You should really change your hours.' We were selling it, but not a lot."
Now, patrons ages 21 and older can purchase alcohol on all seven days of the week from 11 a.m.-10 p.m. with valid identification.
Carroll said she has already seen an increase in sales since the changes.
"Even on Friday night I sold a couple," Carroll said. "People came down just to play pool. That was already a big change from Sunday, Monday, Tuesday."
Randy Hedge, the director of Reeve Memorial Union, said the decision to expand these sales had been on the table for a while.
"Over the past several years, the service of alcohol in the Titan Underground has been discussed multiple times with governance, both OSA and Reeve Advisory Council," Hedge said. "Last year, students again brought the question to the governance bodies, and both OSA and RAC submitted their recommendations to the Chancellor."
To ensure safety for all patrons, Titan Underground staff undergoes training through a program called ServSafe, which teaches service industry professionals about alcohol consumption.
According to Hedge, they are also prepared to take any additional, necessary steps to maintain a safe, legal atmosphere in Titan Underground.
"All of our staff are annually trained in ServSafe training," Hedge said. "Service is managed in strict accordance with all state laws. It is also understood that we may elect not to offer alcohol service during certain times, or at events when all or most of our patrons are likely to be under legal drinking age. During larger events when we are serving, we will follow our Event Protocol Planning process and will review each event with University Police and our management staff. Some events may require wrist banding or other security measures."
Senior Domonique de la Rosa said her primary concern with the changes would be if it became a burden to other students.
"If it ever became a disruption to people studying here I wouldn't be as okay with it, but if people just stop in here for a casual drink after all-day classes, I'm for it," de la Rosa said.
"I'm sure they did a lot of research before making any sort of concrete decisions."
Freshman Emily Westburg said she thinks serving alcohol in Titan Underground could provide a good option for students of age who are concerned with the safety of consuming alcohol off campus.
"Maybe it was just to give people a safe place to drink, as opposed to having people get completely wasted at a bar and then either trying to walk back to their dorm or wherever they're going, but be here instead," Westburg said.
Hedge said ultimately this decision was about making the student body happy.
"The goal of the new seven-day-per-week sales of beer in the Underground is simply to offer alcohol as an alternative beverage for patrons who are of age," said Hedge. "The Underground currently sells only a few beers each week (both alcoholic and non-alcoholic), and we expect it to continue to be low key, but a nice offering."