First all-male choir sings to UWO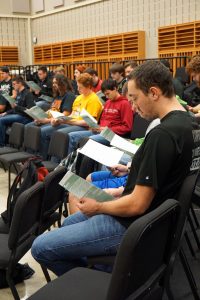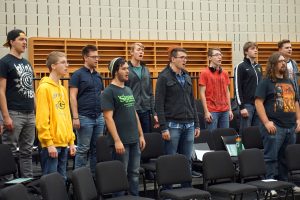 The UW Oshkosh campus community is gaining energy and vitality this year through its first all-male choir.
Herbert Berendsen, the director of Titan Men's Choir, said although the ensemble began this fall, the idea was introduced several years ago.
"All male choral groups are a unique and energetic way to promote the music department at UWO," Berendsen said. "We want the group to be highly visible on campus."
Director of Choral Activities Eric Barnum said the choir formed around the idea of expanding campus interests, revitalizing the women's choir and adding excitement for the student base for years to come.
"Membership in our University vocal ensembles is a concern of the highest priority," Barnum said. "It was seen as an opportunity to restructure the choir offerings on campus to allow for choirs that are found at campuses of similar size and scope across the country."
Barnum said the choir allows students with similar interests to come together.
"This choir promotes, along with the Women's Choir, friendship and community while singing excellent music," Barnum said. "It should be a home and artistic release in the midst of the business of campus life."
UWO freshman Brody Strachan said he joined the choir because of the connectivity it provides.
"I joined men's choir because I love singing with men's voices," Strachan said. "There is a special feeling of camaraderie that comes with being in a men's chorus."
Freshman Martin Bauer said the choir contrasts from other choirs through its liveliness.
"We are very animated," Bauer said. "Our director strives to make us the fun choir."
Bauer said students should consider joining the ensemble because of the energy it provides.
"The people in it are fun," Bauer said. "The director is entertaining, yet informative and inspiring. Honestly, it's the class I look forward to most out of the week."
According to junior Hunter Opinker, the class is the group's opportunity to rehearse for performances.
"Rehearsals involve reviewing music and practicing individual parts, as well as dynamics and techniques," Opinker said.
Barnum said the group will perform on a variety of occasions including concerts, athletic events and alumni gatherings.
"The choir will perform with all other choirs at the four seasonal UWO Choir Concerts," Barnum said. "But the Titan Men's Choir is an ensemble that has, and will have, a more collaborative relationship with the athletic department, appearing at more university events."
According to Strachan, performances help choral students achieve their goals.
"Everyone in our choir has the same goal, to become a better musician," Strachan said.