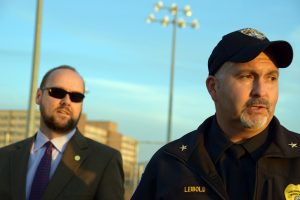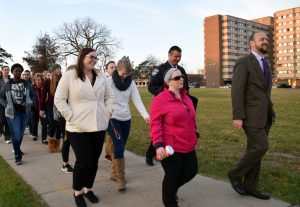 Students were given the opportunity to express their safety concerns with UW Oshkosh administrators at the annual Campus Safety Walk on Monday.
The walk kicked off at the University Police Department just before sunset. Students and faculty circled the campus with UPD officers, community service officers and the Chancellor to indicate areas of concern.
Chancellor Andrew Leavitt said UWO has done the Safety Walk for many years.
"This is my second Safety Walk since I've been here," Leavitt said. "It's something that happens usually annually with the Chancellor."
Leavitt said this event allows administrators to understand any unease students feel regarding campus safety.
"I would imagine it started with people wanting to share their concerns about the environment that they go to school in," Leavitt said. "One of the best ways to do that is to walk around this campus, particularly when the sun goes down, and let administrators experience it in the same way that students are."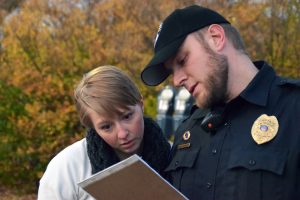 UWO Chief of Police Kurt Leibold said the concerns expressed throughout this walk can lead to changes across campus.
"At the end of the day, what we're going to do is compile everybody's concerns and we're going to put together some kind of proposal and introduce it to the chancellor and see what we can do," Leibold said.
Leavitt said students should participate in this event because it benefits both students and administrators.
"They should participate because that's the only way we can get the information we need to make it a better and safer campus," Leavitt said.
Freshman Bailey Hanson said the walk is beneficial because it gives students a chance to share any changes they believe should be made.
"I think it was an important walk because it gave us students a chance to speak to someone that can change what makes us feel uncomfortable," Hanson said. "There were a lot of great suggestions made by students that the Chancellor, the city and the UWO Police are now looking into."
Leavitt said the concerns expressed at the Safety Walk differ each year.
"You never can quite tell what's going to come out of these because the people who are involved in this walk tonight are all so different, and they all have different experiences," Leavitt said.
Leavitt said the event continues each year because of the commitment to campus safety.
"We want to create the environment where people feel safe," Leavitt said. "One of the ways we demonstrate that is through this walk where we can make some infrastructure changes to the campus to make it safer."
Some of the safety concerns brought up at this year's Safety Walk included lighting, Safewalks, blue lights, stop lights, flash beacons and crosswalks.
UPD Captain Chris Tarmann said Safewalks are an option across campus, including Lot 39 across the bridge.
"Our CSOs do offer Safewalks to that location," Tarmann said. "If you give them a call, they'll walk with you. It's really just adding to your group."
According to Leibold, there are several ways students can contact CSOs to get Safewalks.
"You could either call the police department at 920-424-1212 and just talk to them about what you'd like," Leibold said. "If you have the UW Oshkosh mobile app, you can request it through the app. Then you don't have to give us a call, you just hit submit and they'll send an email back to you."
According to Tarmann, the blue lights on campus are another way to request a Safewalk.
"If you want to hit the blue light and you need a Safewalk you can do that," Tarmann said. "That's not a problem at all."
After students suggested adding a blue light to Lot 11 behind the Arts and Communications Center, Tarmann proposed a blue light app.
"If we had a safety app that gave you a blue light in your phone all the time, then you always have a blue light even when there isn't one around, not a physical one," Tarmann said.
According to Leibold, stop lights become a safety concern when pedestrians do not push the button.
"We did a study," Leibold said. "84 percent of the campus crosses the street illegally. That's not just the kids, that's everybody. What we want to do is make it easier and less confusing."
Leibold said replacing stop lights with pedestrian flash beacons can reduce this confusion. These beacons would ensure that cars stop for pedestrians without having to wait for a light to turn green before finally being able to drive again.
"Over across where the Reeve renovation is going, there's new cross beacons that are flash beacons," Leibold said. "They're not stop and go lights so we hope that's going to make it easier to get across the street."
Leavitt said an increase of crosswalks is another way to reduce safety issues.
"Half of the campus jaywalks every morning," said Leavitt.
Senior Clarissa Rueckert said she had concerns about the driveway between Donner Hall and Webster Hall.
"When I'm walking back from class, I always walk on this sidewalk and cars literally bust through here," Rueckert said. "They don't even really stop and look for traffic, and so I've almost gotten run over a couple different times."
Leavitt said it is important for students to express their concerns in order for these changes to be made.
"Let us know, that way we can do something with lighting or with security or blue phones or something," Leavitt said. "Part of our mission is we want to reduce crime, and we want to reduce fear because fear is just as real."