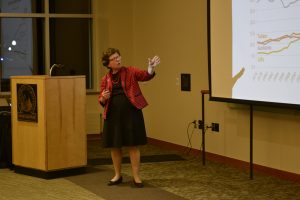 UW Madison Chancellor Rebecca Blank and UW Oshkosh Chancellor Andrew Leavitt met with officials and alumni on Wednesday to discuss the Wisconsin state budget and its role in public higher education.
Blank said she is doing these joint events with chancellors at a number of other locations.
"We have alums all over the state," Blank said. "It's just great to bring all of these different alums together and talk about the fact that we're all in this together. This is not Madison versus Oshkosh, this is Madison and Oshkosh together."
According to Jennifer Skolaski, a UW Madison alumna, this bond is beneficial to both the schools and the state.
"We all benefit from the interconnection of our institutions and the recognition that Wisconsin really thrives when we invest in that one for all, all for one idea," Skolaski said, "A strong and effective UW Oshkosh, UW Madison and UW System are critical to our competitiveness, our quality of life and our state's future."
Blank said budget cuts impact not only the smaller UW schools, like UW Oshkosh, but bigger schools like UW Madison.
"We have managed those cuts; but they are clearly impacting us at this point, threatening our quality," Blank said. "It really is time to reinvest in the University of Wisconsin."
Blank said these cuts have major consequences.
"We've reached a point where there's simply no effective way to manage these cuts without doing something that hurts our educational quality," Blank said. "To think that you're going to solve our budget problems by cutting this further is, quite honestly, not very realistic."
According to Leavitt, the budget led to a transition from low enrollment courses to high enrollment courses at UWO.
"We simply can't afford low enrollment courses anymore on the upper division level," Leavitt said.
Blank said unfunded maintenance costs were what irked her about the last budget.
"I'm taking money out of the education budget right now because I have no money for maintenance costs from the state," Blank said.
Leavitt addressed the problem of student debt at UWO and said the state could help lower the amount of debt students graduate with.
"One of the ways that we can help cure that problem is by trying to shift a greater amount of the cost of education back onto the state as opposed to onto the families of the students," Leavitt said.
According to Blank, the UW system is a worthwhile investment for the state.
"Our contribution to the economy is just highly important," Blank said.
Blank said the public can help support UW Madison and UW Oshkosh by contacting Governor Walker or a local legislator, hosting or attending a meeting with them or attending UW Lobby Day in Madison.