UWO student named Miss Door County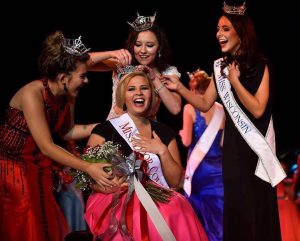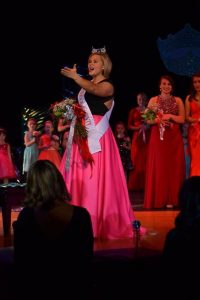 Founder of Operation Not Alone and UW Oshkosh student, Susan Fochs, won the Miss Door County Pageant on Feb. 4 and will move on to compete for Miss Wisconsin in June.
Operation Not Alone serves overseas soldiers and veterans in the community to give them the support they need. Fochs said she started Operation Not Alone with her sorority Gamma Phi Beta her freshmen year of college.
"We are a nonprofit organization where we send care packages overseas to military leaders and we send what we call 'cheer packages' that included blankets and gifts to the veterans here at nursing homes," Fochs said.
Fochs said she competed for the Miss Door County title in 2012 and didn't win.
"I first competed for the title when I was a senior in high school, as a part of a community service platform I thought about what I wanted to do everyday for the rest of my service," Fochs said. "I was really inspired by my father who is a 100 percent disabled Marine veteran, so I kind of thought at that point, helping veterans is kind of my calling in life."
Michelle Bartzen, a UWO graduate, wanted to help Fochs and got involved with the organization.
"I lived with her last year in a house, and that is how I got to know her and the organization better," Bartzen said.
Bartzen said she helped out with events like the Green Bay Packers concession stand Fochs helped put together on behalf of Operation Not Alone.
"Susan asked me to volunteer a couple of times at the Green Bay Packer games, fundraising for our organization," Bartzen said.
The organization also goes to elementary schools informing students about the importance of serving and volunteering to give back to those members, Fochs said.
"[On] Veterans Day, we went to we went to Brillion Elementary, Middle and High school and ended up making tie blankets ,which were included in care packages to overseas military members," Fochs said.
Fochs said she knows it is important to give back to soldiers and veterans alike.
"Heroes are in your everyday life, they're not necessarily the superhero characters we are familiar with, but that they are everyday people," Fochs said.
MeKenzie Lund, 2015 Miss Oshkosh winner said she met Fochs at a competition.
"I have never met anyone so passionate and committed to an organization," Lund said. "She leads with her heart and is a genuinely kind person."
Current President of Gamma Phi Beta Jessica Werhand said Fochs inspired her to join the sorority.
"We as a sorority will try to build each other up in any way we can," Werhand said. "We are about making sure each person is there for eachother."
Fochs said Gamma Phi Beta has always supported her these last four years for Operation Not Alone.
These competitions aren't just about service, but include different stages such as an interview, an evening gown portion, artistic expression and talent show to exhibit how well-rounded of a person you are Fochs said.
If a competitor wins either Miss Door County or Miss Wisconsin but does not move on to the next rounds, they keep serving the community, Fochs said.
"If a competitor wins a title but does not win the next rounds, it is called the year of service," Fochs said. "So you keep serving the community for the year."
Fochs said she hopes to be a full-time hire at the Make-A-Wish Foundations in Appleton.
Fochs said she is excited to graduate this May. She has been interning for the Make-A-Wish Foundation in Appleton since May 2016 and hopes to be hired full-time.
"If not, then I will keep serving for the community and veterans as Miss Door County," Fochs said.