Scrap metal turned into art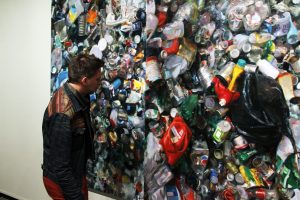 The Allen Priebe Gallery at UWO presented "Scrap Works," a collection of works from Minnesotan artist Michael Kareken, that offered not only visual enjoyment, but also a learning opportunity for UW Oshkosh students who got to work with Kareken.
Kareken has been a professor at the Minneapolis College of Art & Design since 1996 where he instructs students on drawing, painting and printmaking. His work is featured in multiple places, such as the Walker Art Center, the Minneapolis Institute of Arts, the Minnesota Museum of American Art and others.
Kareken said the exhibit showcases some of his pieces from the past 10 years, including works from his "Auto Salvage," "Bottles," "Paper Recycling" and "Scrap Metal" collections.
"This represents about 10 years of work," Kareken said. "It's selections from the spotty work I've been doing that deals with scrap and recycling subject matter. There are works here that represent different phases of that and the evolution of the work over time starting in 2007 or 2006."
The pieces showcased in the exhibit are all places he has personally experienced, according to Kareken.
"It's all based on places that I have gone to and researched," Kareken said. "It started with paper recycling so there's this painting right there of the piles of paper. Those are the earliest pieces and those are based on a place that's right next door to my studio, where I live in Minneapolis."
Kareken said the inspiration came from seeing what was going on at the recycling plant next to his studio.
"There's a paper recycling plant, and just having observed that place got me interested in the subject matter," Kareken said. "I went over there and talked to the people and found it really fascinating."
Kareken said the common theme amongst all his pieces was the focus on recycling and its efforts towards solving waste.
"They're all recycling, I'm not interested in the garbage dumps," Kareken said. "I'm interested in the places where people are trying to do something about the problem."
Not all pieces are finalized and could take a new direction, such as some of the "Auto Salvage" pieces," Kareken said.
"Those pieces are more recent and I'm still working on that series," Kareken said. "They feel kinda different."
Making each piece is different, Kareken said, as each one goes through a different process. However, he said he does research each subject extensively.
"Everything is done pretty much from photographs that I take," Kareken said. "I go to these places. I spend a lot of time researching. I spend a lot of time talking to these people. I take a lot of photographs, hundreds, thousands of photographs, then back in my studio I think about them and what subjects are interesting."
Students visiting the exhibit could go to enjoy the pieces and to learn and relate to their own work.
UWO student Elise Jakusz said the art was so powerful, it was like "being hit in the face."
"I thought all his work was breathtaking," Jakusz said. "I thought all of it was super detailed and that it was really cool he found his inspiration in junkyards and stuff and turned it into art. It's very unique; you don't see a lot of artwork centered around junkyards making like pieces originally thought to be trash into art."
Student Daniel Reddersen said the art at the exhibit was similar to the work he's doing in class and Kareken even offered some tips on Reddersen's work.
"The first thing I saw was the big windshield on the back," Reddersen said. "I keep going back to the bottles and cans painting, which is similar to what I'm painting in class right now with legos. I even got a personal interview with the artist and he critiqued my work."
UWO student Elena Chevalier said the exhibit gave her a chance to study skills she wants to work on with her own artwork.
"I'm a painter and being able to look at his work and examine it is going to help me with my work," Chevalier said. "Especially my technique, where I'm struggling and he seems to have it figured it out."