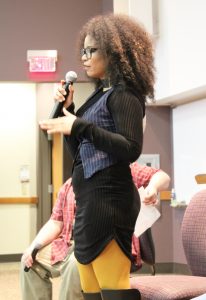 UW Oshkosh held an open panel for students to discuss the current and future trends of representation for women and people from the LGBTQ community in superhero films.
The panel consisted of Kat Garcia, former UWO student and a graduate student at UW Madison; Loren West, UWO student; John Pata, an employee at House of Heroes comic book shop in downtown Oshkosh; and Eliza Farrow, program assistant at the UWO Women's Center.
The first topic the panel discussed looked at the current trend of superheroes being mostly straight white men, and the panel was asked if they believed a shift was happening away from that.
Farrow said she does see a shift happening, however it's happening at different paces in the different media.
"I think it's happening faster in some mediums than others," Farrow said. "I think the rebirth comics and the newer mainstream comics are putting forth more of an effort to have these diverse characters. The movies and the TV shows tend to stick more with the male white characters."
Farrow said the reason there wasn't a more diverse range of characters is partly due to a system put in place on what could be included in a comic.
"The Comics Code Authority was established, and comics had to adhere to these rules," Farrow said. "In terms of sexual orientation and gender identities that we are seeing come out is partially due to the fact that all the major comic book companies have stopped adhering to the Comics Code Authority, so it's giving them a little more freedom to explore some things."
Garcia said there has been a shift already in motion when it comes to getting more people of color into superhero roles.
"As far as calling it a shift, I'm going to be hesitant calling it that, depending on what you're talking about," Garcia said. "If you're talking about the mainstream I feel like calling it a shift now revolutionizes what the mainstream is doing and ignoring that these are changes that have already been happening for a long time in the market for superheroes of color."
Another topic the panel touched on was the importance of having diversity in the superhero films.
Pata said it's important because he believes everyone is just a person, and there is no difference in what person plays it.
"We're all human, that's the most straightforward answer you can give," Pata said. "We're all human, we should all be treated equally and we should be represented equally. That's what I want to see more, just because it is that simple."
UWO student Jessie Olson attended the panel because she was interested in hearing about the topics since she took a women's gender studies course.
"I came to this because I really like supporting equality and women's rights," Olson said. "I think we should have more iconic women figures in media. There's not a lot of diversity in the media and that they always portray women as these sexualized characters, [which] you see that a lot in the media."
UWO student Samantha Moore said she came to the panel because of the unique combination of topics it presented.
"I'm interested [in] superheroes, and I'm also interested in women's rights, transgender rights, feminism and feminist issues in general, so I thought that this was an interesting combination of the two," Moore said. "I think they had some good suggestions about what we can do. We hear a lot about discussing the different issues and how they are not always represented fairly. I've never really heard all these things that I can do personally."
Students who attended the panel were also entered into a raffle for a chance to win one of four comic books provided by the panel.