Artist, students create exhibit
[media-credit id=122 align="alignleft" width="209″]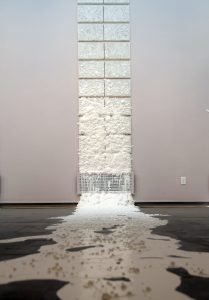 [/media-credit]
[media-credit id=122 align="alignright" width="300″]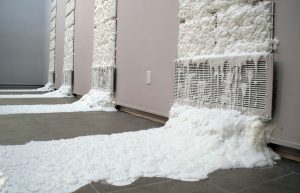 [/media-credit]
The UW Oshkosh Allen Priebe Gallery hosted the exhibit of Serra Victoria Bothwell Fels, which gave students an opportunity to work alongside the artist to create the exhibit.
Fels arrived on the UWO campus around the end of March to survey the gallery for her installation before constructing it.
Gallery director Gail Penske said the exhibit is custom made for the Allen Priebe gallery and the materials are from recyclables.
"During Serra's lecture she talked in detail about her previous work and how it led to the creation of the installation you see in the gallery," Penske said. "Her work is site specific, which means that it is created for the space – in this case the Priebe Gallery. The piece only exists during the run of the exhibition, then it will be destroyed at the end of the show. The ceiling tiles that makeup a large part of the installation are salvaged from the garbage, recycled into the artwork."
Penske said Fels' previous work in New York is what helped inspire the exhibit at UWO.
"Earlier this year she created an installation in NYC Times Square which became an influence for the Twenty Seventeen piece in the gallery," Penske said. "It included references to decay and melting architectural elements and was the first piece in what she described as a new direction in her work. The work is the artist's response to 2017; the current political environment and the deterioration of culture and civil conversation. She talked about her deep concern about how we are treating each other in 2017."
Megan Kragenbrink, president of the Priebe Gallery Board, said the board chose to bring Fels to campus to switch up the kind of exhibit they normally have.
"As to why we to bring Serra to campus, the board felt the strong need to bring more diverse art forms and practices into the gallery," Kragenbrink said. "We have recently had plenty of 2D shows (paintings, drawings, printing) but an obvious lack of 3D work. We felt as though Serra would bring a valuable experience to campus with her use of unique mixed medias and site specific design."
Kragenbrink said she knew who Fels was and already admired the artist's work and the experience was wonderful because Fels is fresh out of graduate school with relevant information to share with current students.
"I was personally a fan of her work for quite a while and was very interested in her constant experimentation with different recycled materials and evolving structures," Kragenbrink said. "Her work apparently appealed to the rest of the board as well, and they thought she also brought valuable knowledge to students as she only graduated from her master's program at Columbia University last year in 2016. The site specific installation was also very valuable as many students have had little to no experience in that process."
Fels' exhibit will be in the Allen Priebe Gallery until April 19.