Students go 'Beyond First Impression'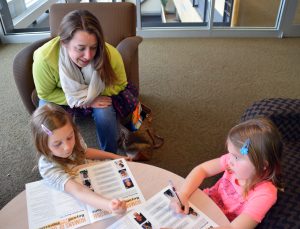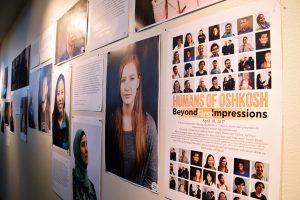 UW Oshkosh brought students and strangers together at the Beyond First Impressions event on Tuesday as part of the Humans of Oshkosh project.
Beyond First Impressions showcases students' work from their Quest Three class "Telling Stories for Fun, Profit and World Peace."
Grace Lim, Instructor of the interdisciplinary studies course said the project the students focused on this semester was all about stepping outside their comfort zones to learn more about their community members.
"It is focusing on getting beyond our first impressions of people that we meet and often times these impressions are either just totally off base or just a small part of who they are," Lim said. "I wanted my students to see these people and then go beyond what they see."
Lim said the idea of the photo booth came from the overall theme of getting past the initial discomfort with meeting someone new.
"The thing about talking to strangers is that it's kind of scary and awkward…you're putting strangers in a small space, it's really rather intimate," Lim said. "It's awkward, but you know what? It's alright. We see people going in there and they don't know each other and they come out laughing just because it's fun."
UWO senior Casimir Curney said the event was a nice way to bring outside culture to UWO.
"I am sort of familiar with the concept, I know it's like that Humans of New York page on Facebook," Curney said. "It's really cool to bring in that cultural aspect to Oshkosh. As for the photo booth, I think it was more awkward for [photo booth partner], I enjoyed it. I got to meet the stranger, and she was just kind of coaxed in."
UWO sophomore Brett Morris, who is also part of the Quest Three course, said at first the class was a little uncomfortable, especially if this is the first time interviewing.
"It was pretty awkward at first, because we pretty much get told to talk to strangers in the community," Morris said. "Once you get your first couple of stories done and you talk to a lot of people it gets easier."
Morris said one part of the class he really enjoyed was being able to share stories with his other classmates and learning about the interviews they did.
"It's really cool to read all the other stories our classmates write because it really just shows you how diverse the community of Oshkosh is," Morris said. "I just went to Starbucks and if I saw people sitting alone I would go talk to them and a lot of times people don't really want to be bothered, but you just say thank you."
Lim said she hopes everyone, especially her students, learns to open up to new people instead of following the same predisposed way of thinking by judging.
"The takeaway for this project is the proverbial 'don't judge a book by its cover' and we judge people by the way they look or the way they dress or the way they act or anything like that," Lim said.
Lim said once people move past their old way of thinking, the next step to bringing people together is by simply talking to one another.
"By not judging people, we need to be able to talk with them and so I'm hoping my students will learn that you know, we often do pre-judge people, but starting a conversation with someone, you learn that we are more alike than different," Lim said.