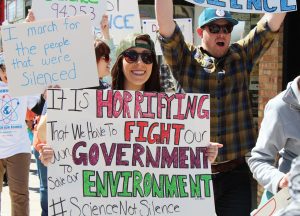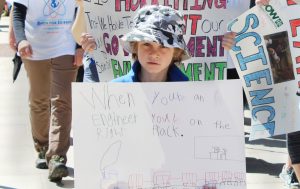 Science supporters took to the streets as part of March for Science in the city of Oshkosh to raise awareness of the declining funding toward science on Earth Day, according to environmental studies professor Laura Hartman.
Biology and environmental studies professor Misty McPhee said the March for Science in Oshkosh was expecting about 100 supporters but instead was able to get about 300.
"The march went phenomenally well," McPhee said. "The energy was high, and everyone was really excited about the event."
Hartman said the event was joyful and people were smiling every step of the way.
"Lots of kids made it fun, and some people had noisemakers, like tambourines and cow bells," Hartman said. "I heard people shouting 'What do we love? Science! What do we love? Earth!' which is a beautiful chant."
Master's candidate in microbiology Shannon Johnson said UWO becoming a destination for a satellite march is significant.
"It shows on a local level that there is support," Johnson said. "There is support, not just in major cities but where it can be seen for people who are unable to travel to those large marches."
Hartman said science has been questioned a lot in society therefore budget cuts have been made to the field.
"I think many people are afraid of science or don't trust it," Hartman said. "Our country needs to be a leader in science, but cutting funding means less science happens."
Johnson said science is important when it comes to laboratory work.
"Because the science we work on affects other business, such as the water we work on, the water we sample," Johnson said. "The message should be that science is not some sort of evil entity that out, it is more about trust, that they're facts. It isn't alternative facts."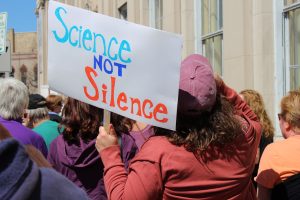 Johnson said she was always curious about everything at a young age, which led to working in a laboratory with other colleagues.
"I took a path into science and was able to get into a laboratory and thought that I was able to learn better techniques and cooperative team work," Johnson said.
UWO student Hunter Armstrong said he is majoring in public relations with a minor in music industry, and he thinks any major is going to have a connection with science.
"It is sort of the way we do everything in our lives," Armstrong said. "It is a way to understand everything, and the march is one of the most important things we have going on today."
Armstrong said he marched because he supports science with the helpful influence of his roommate Jack Buchinger, a member of SEAC.
"My roommate, Jack, is one of the brainchildren of this march, and I am here to support him just as much," Armstrong said.
Johnson said she was nervous about the event the night before the march but woke up feeling great.
"This is important, and I could spend my time defending science," Johnson said.
McPhee said there is a problem with how people view science these days, and it is important to know evidence-based facts versus assuming.
"I understand the importance of fact and evidence-based fact in making really good decisions," McPhee said.
Johnson said the problem with people and the Trump Administration is that they are not trusting the facts that are out there.
"It's important that people consider other people's work and scrutinize others but in a way that does not discredit," Johnson said.
Armstrong said the goal of the march was to show how people stand together in the belief that science and education are the only true ways everyone can progress as humans.
"When such numbers come out to have their voices heard, that really means something,"
Armstrong said. "Those are our friends and family joining together to try and leave a better planet for the future of all, and that needs to be appreciated."
Armstrong said the march went great, and everyone was eager to join and passionate about what was going on.
"It's amazing and makes me feel proud to know that both this city, which I've come to call home, and the place I was born, Appleton, participated in the marches this Earth Day," Armstrong said.
Hartman said at the end of the march there was little girls passing out biodegradable pots with seeds in them dressed as Dr Suess from the Lorax.
"I thought, this child passing out seeds is the future: she is showing us that working to help the earth, through science and in other ways, is planting seeds for growth and flourishing in future generations," Hartman said. "This march showed us that there are many 'someones' here in Oshkosh who do 'care a whole awful lot,' and that brings me hope."