Lee talks gender, "it" connotation
[media-credit id=250 align="alignleft" width="300″]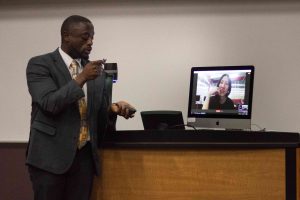 [/media-credit]
The UW Oshkosh Asian Student Association hosted Professor Joon Lee as the final Asian Heritage Month keynote speaker Thursday to discuss his research.
Lee is a professor at the Rhode Island School of Design, where he is a part of the Literary Arts and Studies faculty.
Lee's research is centered on feminism, fiction writing, African-American literature and culture and queer theory. His lecture focused on intersection of race, gender and sexual orientation within the use of the word "it."
Lee began his lecture by explaining how the word "it" has transformed to carry a new meaning and how using the word connects to humans.
"I want to talk to you today about the word 'it,'" Lee said. "It is a teeny-weeny word that has had to bare an unimaginably oppressive wave of the idea of oppression itself. It reassures us that humans are not only not objects but they are better than objects."
Lee said the word "it" separates itself from the normal spectrum of identifying with a gender and his fascination with the word came from learning how to use it as a pronoun in our society today.
"'It' is a word that stands outside human identity with its lack of gender," Lee said. "'It' is not 'he' nor 'she,' but lately I've been wondering what 'it' might be, what it might feel like for the word 'it' to become a functioning gender pronoun in the English language."
Lee said the English language is just now learning to use "they" as a new pronoun for those who identify as non-binary.
"I love this little word and in these cultural times, when the English language, at least American English, is undergoing the beginning of a sizement and therefore doubtlessly the eons-long shift of using 'they' as a genderless singular pronoun," Lee said. "'It' is being left out of the conversation of gender politics and has made me want to express its love to anyone."
Lee said the process of introducing "it" as a new gender pronoun may take a long time, but the chase to understand "it" as a new pronoun is a step in the right direction.
"To me, imagining the functionality of 'it' as a gender pronoun is a philosophical chase that doesn't reach a finish line," Lee said. "The chase itself may be rewarding enough in forcing us to think about the physical limits of our bodies and how language might work with or against individual sexuality, race and gender to draw out the most comfortable alpine for those limits."
UWO sophomore Sierra Skindzelewski said she came to hear Lee speak because the lecture tied into what she was studying in her class.
"My class is for human race variations, but I still feel like there's similar concepts in what he was talking about," Skindzelewski said.
Skindzelewski compared what she was learning in her class about race to what Lee spoke about in his lecture.
"In my class I'm learning how race is a social construct," Skindzelewski said. "It's not biologically truth necessarily, and how Dr. Lee, from my perspective, was taking gender and saying that it's a choice as well, similar to how sex is a biological concept whereas gender is that other choice one can make too."
UWO freshman Laura Burow said Lee's lecture taught her new perspectives to look at when meeting new people.
"You never know what someone identifies as," Burow said. "Listening to Dr. Lee speak about using 'it' as a new gender pronoun really made me think about how I was gendering others when talking with them."
Burow said she plans to share the information she learned from the lecture with her friends to get their opinions on the topic as well.
"I have friends who are part of the LGBTQ community, and I think they would have some interesting opinions on this subject," Burow said.
Burow said it's important everyone is aware of gender pronouns and the general practice of using correct pronouns for everyone.
"I believe in doing whatever you want to do and being whoever you want to be," Burow said. "So we should respect what others want, just like others do for you."