Fraternities, sororities host events to showcase Greek Life opportunities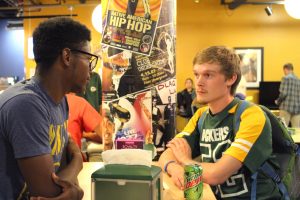 Fraternities and sororities at UW Oshkosh are getting ready to begin the 2017 year recruiting new students interested in Greek Life.
"It is very important for the UWO community just because we do so much and we are so involved with [campus]," Greek Life member Chandler Lackey said. "I am so excited to be a part that I think that the energy radiates to other organizations as well."
Junior Sierra Skindzelewski said Greek Life's greatest benefit for the community is being able to give through service and find new skills she could use by joining.
"The greatest benefits is our volunteer [work] in the community [and] being able to give back and with that the leadership skills you obtain," Skindzelewski said. "I didn't realize I could be so organized with work and other people from other sororities."
Lackey said this year they wanted to push for recruitment so there is an increase of students who come to these events.
"We try to make sure that we have things for everyone," Lackey said. "And we make sure we have a lot of our active members [attend] so the new students feel comfortable in the environment."
Freshman Stephanie Mallinger said she has heard positive things about Greek Life events.
"I came to these events to see what it is about," Mallinger said. "Maybe a sisterhood sounds good."
Skindzelewski said many incoming students have a lot of questions about Greek Life and it is very important to make sure they answer those questions.
"We at Greek Life make ourselves very available to the new students," Skindzelewski said. "Just being available to them because it does people a disservice just to not have the ability ask questions about Greek Life."
Lackey said incoming students have concerns about the finances associated with Greek Life.
"We generally have answers for all of [their questions] and they are all positive answers because Greek Life here at UWO are all transparent," Lackey said.
Freshman Nicole Beck said she did some research on what Greek Life is here at UWO.
"I just want to expand my group of friends and [find] more things to do on campus," Beck said.
Skindzelewski said Greek Life is a very supportive environment.
"Being part of the Greek community is like being part of the bigger picture, being able to support one another, even in all of our endeavours," Skindzelewski said.
Lackey said Greek Life on campus is different from other clubs and organizations to an extent.
"It is kind of similar in a way where you meet your friends and you get to find people with the same interests as you," Lackey said. "I think the main thing that sets Greek Life apart is that it so much more than just a friendship, it's like a brotherhood or a sisterhood."
Lackey said the turnout of new students was huge this year for Greek Life at UWO and he enjoyed seeing all the incoming freshmen excited to learn about Greek Life.
"I felt ecstatic," Lackey said. "It is such an amazing feeling to be part of such a unified system, a self-governing system university where we can band together and recruit people that can be just as passionate and loving to one another. Regardless of competition, at the end of the day we are all there for each other and anyone we recruit or bring in we are super excited."