Parking spots on campus decrease due to RecPlex construction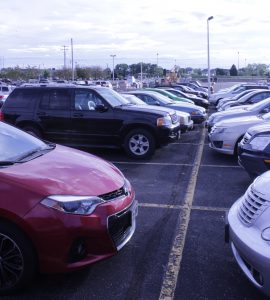 The new RecPlex being built at UW Oshkosh has rumors circulating about the construction taking available parking spaces from residential students.
Director of Parking Services Benjamin Richardson said the RecPlex construction has not had any effect on residential students who actually bought a parking pass.
"Resident students who were issued a parking permit through the lottery system have not had an issue finding a space within their designated lot(s)," Richardson said. "When taking inventory for parking on campus, we kept the impact on parking spaces under the Student RecPlex footprint in mind and did not overfill our lots."
On the other hand, Richardson said the RecPlex construction has taken other parking spaces that could have been available to students.
"The Student RecPlex sits on top of what was approximately 110 resident parking spaces and 60 employee/commuter/visitor spaces," Richardson said. "While continuing to explore parking options with our neighbors, we have let students know about the alternative options available to them including, the City of Oshkosh, which has been working with resident students to find parking accommodations, and the many public transportation options."
UWO student Gina Greisch said she believes students who don't live on campus have a more difficult time finding parking.
"I think there are enough parking spaces available to students who live on campus, but not off campus," Greisch said. "I have more trouble finding a parking space when I try to drive to school and park by campus so I don't have to walk as far."
Greisch said she feels the RecPlex construction is potentially why off-campus students may have a difficult time finding places to park.
"Taking up that many parking spaces could leave students who live in the dorms less options to park," Greisch said. "I think with less parking spaces for students who live on campus, they start to park on the street and take up spaces for students who live off campus."
UWO student Carly Reynolds said there should be more options available to students who live off campus.
"Trying to go to class and finding a place to park, even on the streets, can be a struggle," Reynolds said. "Sometimes I wish there were more ways to get around campus easier."
Luckily for Reynolds, Richardson said there are other options available to Oshkosh students for means of transportation around campus.
"Students can ride the City of Oshkosh GOTransit, the OSA sponsored Titan Transit and the UW Oshkosh Shuttle Service for free with their Titan ID," Richardson said. "The Lamers Campus Connect bus picks up right next to Gruenhagen and has a wide variety of routes, or bicycle rentals are available at the UW Oshkosh Student Rec Center."
Richardson said UWO has an Enterprise CarShare program available to students 18 and older.
"Students can join for just a dollar," Richardson said. "This rental is located conveniently right in the Blackhawk Commons parking lot 15."
Reynolds said she is glad there are other ways to get around campus while parking spaces are limited.
"I am happy to hear students like me have other ways to travel around campus besides driving everywhere," Reynolds said. "This relieves a lot of stress on students when they are trying to get to their classes or to other activities involved on campus."
Hopefully in the future, Greisch said, there will be more spaces provided for off- and on-campus students.
"I know parking is always going to be an issue around not only our campus, but many others as well," Greisch said. "I hope our campus can somehow find a way to make more spaces available for students because it will just make all our lives easier."