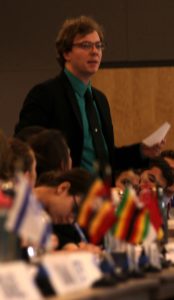 The UW Oshkosh Model United Nations team hosted its annual on-campus simulation of the United Nations Formal General Assembly on Thursday Oct. 5 with the topic being the Question of Palestine.
There were 69 students and alumni that participated, Secretary of Model UN Sarah Rowley said.
"Delegates started the night by giving opening speeches on their country's interests," Rowley said. "After that, we started discussing the Question of Palestine, where we used a resolution sponsored by Israel as the basis for discussion. I represented Israel, who sponsored the resolution, so my role was a little more intensive than other delegates and meant that I needed to give a lot more impromptu speeches."
This General Assembly focuses on improving students' public speaking skills as well as their research skills, Model UN Vice President Matt Clowney said.
"Before the event we practice writing and giving speeches in small groups," Clowney said. "At the actual event, everyone gives a speech that lays out what is important for their country. This not only requires everyone to write and deliver a speech but also to research their country."
The concept of working in small groups, finding one's regional perspective and learning alongside one's peers is an important aspect of growth on the Model UN team, Zoe Dahse, the team's OSA representative, said.
"We categorize all members of the team, continuing and new, into the five blocks of the world," Dahse said. "In these groups, experienced team members share information on things such as regional bodies and organizations, general speaking skills, and parliamentary procedure with the new team members to prepare them. We made sure everyone felt prepared and comfortable enough to speak."
With extended membership on the team comes many opportunities to step into leadership roles Dahse said.
"I played the United States of America, so I was leading the Western countries, and as a block leader, I was able to work with new members and share my knowledge with them," Dahse said.
Second-Vice President of Model UN Stephanie Liechty said she has grown as both a leader and as an academic since joining the team two years ago.
"Before joining Model UN, I was physically unable to talk in front of large groups, but now that this team has helped me move past that fear, I am now working on improving how I speak," Liechty said. "I've been able to meet many new people and teach them the skills that I have learned from being on the team, and with that I have also made many new friendships."
This simulation is one of two annual General Assemblies the Model UN team hosts on campus, and the skills learned at this simulation will only be built upon in the next one, Liechty said.
"General Assembly 1 is held strictly in formal session which focuses on speaking and parliamentary procedure; our second simulation this fall, General Assembly 2, also incorporates a formal session but focuses mainly on informal session," Liechty said. "Informal session allows delegates to break off into groups and work on constructing a resolution regarding the topic at hand. We build upon the skills that students learned in GA1 and introduce new skills such as writing, researching and interpersonal negotiation."
Model UN discusses many different topics and and offers an in depth experience into the world of international diplomacy, and this General Assembly was only the very beginning, Rowley said.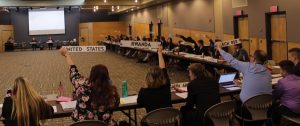 "Model UN is an experience like no other; not only do we get to simulate the United Nations, we discuss real-life issues such as HIV/AIDS, refugees, nuclear weapons, peacekeeping and more," Rowley said. "These are often topics you may find discussed in classes, but Model UN provides for a hands-on experience where delegates get to actively solve the problem at hand."
The rich experiences people have in Model UN stay with them even after graduation, which is an important aspect of the Model UN's extensive alumni network and tradition of excellence, President of Model UN Karee Orrick said.
"We are a competitive student organization with a tradition of excellence for the past 33 years through winning top awards at regional and national competitions," Orrick said. "And at this simulation we had a number of alumni return to participate, which really helps to show just how connected our campus is to a greater network of people around the world, and just how important Model UN is to so many people."
The next Model UN General Assembly is Thursday Oct 26. For more information email .