Reeve Memorial Union places time capsule into wall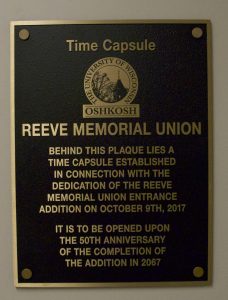 The Reeve Advisory Council placed a time capsule into the walls of Reeve Memorial Union on Wednesday to commemorate the remodeling and construction of the building.
Reeve Advisory Council President Kayla Keena said the capsule represents the legacy of Reeve and what the building has been to students, faculty and staff over the years.
"The previous Union Director, Randy Hedge, brought this idea to the Reeve Advisory Council when the project was in the design stage," Keena said. "The capsule will be opened 50 years from now, in the year 2067."
The capsule contains many objects that give a snapshot of life in 2017 including letters and stories from current UW Oshkosh students about their experiences at Reeve, Associate Director of Reeve Union Kelly Kramp said.
"The items we placed in the time capsule included letters and memories from current campus administrators, faculty and staff as well as current and past UWO students, giveaway items from 2017," Kramp said. "Including a fidget spinner, a PopSocket, t-shirts, Oshkosh Student Association items and Reeve Union Board items."
Also included in the capsule was a letter from the chancellor to the future chancellor and a piece of the original staircase from the 1959 building project, Kramp said.
Executive Director for Campus Life Jean Kwaterski said the time capsule represents a point in time and the ability to share that with future generations which is why they avoided adding a flash drive to the capsule.
"One of the reasons we didn't put a flash drive into the capsule is that we didn't know what technology would look like and if it could be read in 2067," Kwaterski said.
"In the letter that Chancellor Andrew Leavitt wrote to the future chancellor, he suggested that they may have flying cars."
Kwaterski said it was important to commemorate the building as well as recognize all the work that went into the construction of it.
"We hope that future students and members of the UW Oshkosh community will be thankful for our efforts" Kwaterski said. "We hope that Reeve Union will still be thriving and be a vibrant place for the UW Oshkosh community. However, we realize that many things will change in 50 years."
Kwaterski said she hopes students will return in 2067 for the opening of the time capsule.
"Bring your children and grandchildren and share your story with them of what life was like in 2017," Kwaterski said.
"