UWO Vice Chancellor named to committee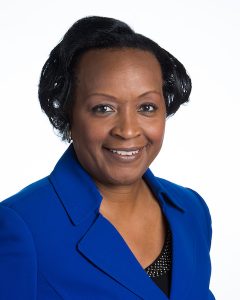 UW Oshkosh Vice Chancellor of Student Affairs Cheryl Green will represent UWO and student voices on a national stage as a member of Forward50, a group tasked with crafting policy recommendations for Congress to make college more affordable, accessible and transparent.
Forward50 is a committee overseen by the National Association of Student Financial Aid Administrators. The committee seeks to combine bright, innovative minds from all sectors of higher education, including students, to form practical, creative solutions to complex financial aid issues.
Green said the diversity of the group is something that is truly important to her.
"It's a brand new concept and what I was excited about is that it is not just a group of financial aid directors," Green said. "In fact there is way more than that."
Having grown up on the south side of Chicago, Green said she fostered her love for learning at a young age, particularly through reading.
"I think books were my way to travel mentally and to experience other cultures," Green said.
According to Green, her early love of books and school lead her to a job she had when she was a teenager, which had a profound impact on her, an experience she included in her application to Forward50.
"I still have the paychecks at home," Green said. "I was paid by the Chicago Board of Education to be a reading tutor. I was 14, and I got a lot of joy out of teaching poor kids in inner-city Chicago."
Green has a history of working with students on a personal level as a psychologist and as a professor and recognized that shifting from practitioner to administrator would put her in a position to control resources and where she could better assist students whose stories she had come to know.
"I've heard the stories, I've seen the tears, I've picked up the phone, I've moved mountains, I've even allocated funds to help students in crisis," Green said. "I am honored, excited, jazzed and motivated to be a part of this Forward50."
The application process, which included writing and submitting various materials that validated why she deserved a spot on the committee, was rigorous, according to Green, who was the only representative from Wisconsin to be selected.
The first meeting of the Forward50 is scheduled for March in Washington, D.C., where Green will convene with her fellow members to draft comprehensive recommendations for lawmakers.
Green's biggest goal is to make lawmakers more informed about the critical needs of various student body populations as it relates to financing an education by, for example, making Pell Grants or Federal Perkins loans more accessible.
"There are various tools that come from government that fund financial aid, and they have been manipulating the amount of funds available over the years and it directly gets at the heart of affordability and access for students," Green said.
The current state of financial aid is just not meeting the needs of students according to Green.
"According to a lot of the data I'm looking at, financial aid is one of the top reasons that a student doesn't complete," Green said. "How sad, you know? You have the ability, you have the motivation, you have desire, but your [financial aid] package just isn't enough."
Planning on learning as much from the experience as she can, Green said she hopes to take knowledge and inspiration from her time on the Forward50 to make recommendations to the UW System.
Although Chancellor Andrew Leavitt was not surprised by the fact that Green was selected for the Forward50; he said he was extremely pleased to hear the news.
"Green is somebody of tremendous experience and a wealth of knowledge, so it certainly makes sense to me for her to be a part of this council, which will help envision what the future of financial aid and student success will look like," Leavitt said.
Green brings a diverse set of experiences with her from both public and private institutions and will represent the interests of the comprehensive public sector very well, according to Leavitt.
"The Forward50 plays a vital role in the reauthorization of the Higher Education Act and in informing lawmakers on factors essential to student success and accountability," Leavitt said.
"If their work can help inform reauthorization of the Higher Education Act, which is so important in determining what the level of financial aid the federal government will participate in with our students, if they can bring about a greater commitment to public funding of higher education then I would be delighted," Levitt said.
Associate Vice Chancellor Art Munin said Green will serve as a strong, ardent student advocate at the table who will continue to shape higher education.
When asked how the Forward50 will impact UWO students, Munin said student success is at the core of everything the Forward50 does, as they examine critical topics such as affordability, access, transparency and how higher education institutions are accountable to their students.
"The access, retention, persistence and success of our students has to be a top priority, and I have complete confidence in Dr. Green's abilities to be a substantive leader in this endeavor," Munin said.
Leavitt said UWO is extremely fortunate to have Green representing this university.
"I'm just so thrilled that Cheryl is here. She has been a tremendous addition to the campus and to our community." Leavitt said.