Carpenter creates a new culture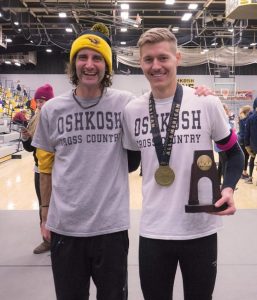 In 2011, Jordan Carpenter began his college career at UW Oshkosh. His goals included graduating with an undergraduate degree and running cross country. Three and a half years later, he was able to earn his degree while recording high academic marks and being a top runner for the men's cross country team.
After taking 2012 off from competition due to illness, he came back and ran the next three years to end his career, becoming one of the most successful runners in Titan history.
His journey began at Ashwaubenon High School where he ran cross-country throughout all four years.
Carpenter said they had three All-American honors on the team during his freshman year.
"In my [high school career], I made the state meet as an individual only once in cross country and never [for] track," Carpenter said. "I did have the goal of being All-American one day, but as a freshman it seemed very unrealistic, and it probably was at the time."
During Carpenter's first year at UWO, his running performance was strong and successful as it was capped off with an opportunity to run in the NCAA Division III Championship and placed 264th.
The next year Eamon McKenna was brought in as the men's team head coach, and Carpenter said a connection was evident from day one.
"I think [McKenna] also could see how dedicated I was to getting better, so it motivated him to help me achieve my goals," Carpenter said. "This bond only grew stronger during my time at Oshkosh. I can honestly say that Eamon is the person I look up to the most in life and he has been a great friend and mentor since he arrived on campus."
The cross country team took home a WIAC Championship during Carpenter's freshman year. He ran in six meets, including both the WIAC and NCAA Championships.
In 2013, Carpenter was back out on the course for the Titans. He ran in seven different events, culminating in another DIII Championship appearance. His top finish of the season was 17th.
Opponents took notice during Carpenter's junior year. His only double digit finish, 45th, came during the NCAA DIII Championship. He recorded a first place finish, his first in the collegiate ranks, at the Roy Griak Invitational. He took home one third, fourth, fifth and two ninth place finishes on his way to earning a College Sports Information Directors of America All-American Team nomination.
Carpenter said having a record-breaking junior year was what kept him driving for more.
"Once you get a small taste of success you always want more," Carpenter said. "I went from wanting to place in conference, to wanting to place at nationals, to wanting to be a national champion. You always have to have new goals to achieve."
Carpenter peaked during his senior year by recording two second-place finishes on the year.
He helped lead the team to a 13th place finish at the NCAA DIII Championship in 2015. He finished 13th individually, earning an NCAA All-American award for his performance. McKenna said Carpenter, being a fifth-year senior, was highly regarded by his fellow runners on the team.
"Jordan has had a profound impact on my coaching career," McKenna said. "He is someone that I was able to lean on as a leader during my first four years of being a head coach, and I learned a lot from him.
Jordan's work ethic and desire for success helped instill and deepen a competitive hunger in me as a coach. [His] impact will be felt for a long time, and his accomplishments speak to a legacy as a Titan legend."
By using his remaining eligibility in 2015, Carpenter's career as a Titan today is down to solely academics.
He held a 4.0 GPA during his entire undergrad and Carpenter said he understood academics would be key to his development later on, regardless of where they led him.
"The biggest lesson that I passed on [to my teammates] was being an example of consistency," Carpenter said. "I showed the guys that you can go from being average to being great by putting in the work day-in and day-out. Academics were always important [to me], even during the season. It was what I was doing when nobody was around that made me a great student."
Senior UWO runner Charlend Howard said Carpenter always encouraged the team to give it their all. He left a lasting legacy as someone who never wanted to lose.
"Being a teammate with Jordan provided my running career with a mentor who I could look up to 24/7," Howard said. "Jordan provided an environment of always wanting to win no matter what. He encouraged me personally to have that same mentality and to push myself everyday"
Currently Carpenter is continuing his education while jump-starting his coaching career. He is taking online courses to work toward earning his Master of Business Administration through UWO. His coaching career has begun in California, as he is assisting in distance running and recruiting for the Pomona-Pitzer Sagehens.
Carpenter said everything boils down to where he came from. His roots are very important to him, and his accomplishments show him that hard work pays off in the long run.
"In Eamon's office, there is a large plaque with the names of all of the All-Americans in the program's history," Carpenter said. "I used to sit in his office and read all of the names on there so I really wanted to be up there one day. Now I am proud to say my name appears on those plaques three times."