Swim and dive email adds to drama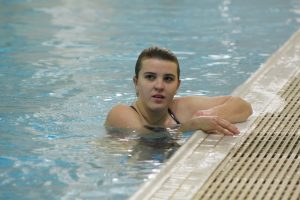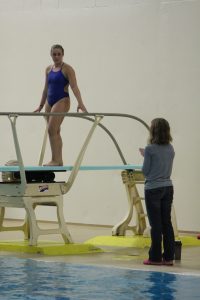 Editor's Note: This is the first part of a series of articles about WIAC athletics and budget managment done by the Advance-Titan sports section.
A campus-wide email about the men's and women's diving team conducting a search fro athletes sparked student reaction.
The email that was sent out on Sept. 21 read, "The UWO Swimming and Diving team is looking for students with diving experience to potentially join the program. The swimming and diving program has a great facility and a very experienced coaching staff that can help develop your diving skills to compete at the collegiate level. Students with a gymnastics background are encouraged as well."
After cutting men's soccer during the fall of 2015 and men's tennis in the spring of 2016, anything that happens in regards to the Titans' athletics department can bring controversy and mixed feelings among athletes, coaches and students.
As shown by senior Nick Woodbury's tweet, the email did just that.
Woodbury, a member of the UWO men's soccer team from 2013-2015, tweeted a screenshot on Sept. 21 of the announcement that was sent about the diving team and tagged Chancellor Andrew Leavitt in it.
The tweet said, "Hey @uwochancellor just a heads up, the [men's] soccer team had to cut players because we had too many that wanted a spot."
The tweet has received 50 likes and 18 retweets so far.
According to Woodbury, he is frustrated with how athletic director Darryl Sims has handled the athletics budget in recent years.
"It obviously hurts a little bit to see resources spent in a program that is failing when they could have been used for the tennis or soccer programs," Woodbury said. "It really just shows the incompetence of Sims and those who aid him in decision making for the athletic department."
Junior David Leffler, who competed on the men's tennis team from 2015-2016, said he is also irked with the email that was sent out. However, he does not want any team to have to go through what his team did.
"Personally, I don't believe that any programs should be cut," Leffler said. "If the dive team can't roster a full team, that still won't make the tennis program or soccer program come back."
The diving head coach for both the women's and men's team, Amy McQuillan, stressed that her and Culp sent the email, not because they had to, but because they wanted to.
"It wasn't that we had open spots," McQuillan said. "In fact, we don't."
The first thing that comes to finding players for a team is recruitment. Men's and women's swimming head coach Christopher Culp said diving can be a tough recruiting sport because it is very different from sports like football and soccer.
"Diving is a weird breed, there's not a whole lot of divers out there," Culp said. "It's harder and harder to find them because high schools are limiting diving because of insurance and liability and that type of stuff. It's tougher and tougher to get them."
McQuillan went on to explain that Oshkosh is not necessarily struggling to find divers. Rather, the team is simply trying to boost their roster count so they have a better shot at scoring points against Wisconsin Intercollegiate Athletic Conference rivals, who may have fewer divers because of last year's large graduating class across the state.
"Overall in the WIAC conference, specifically the diving portion of swimming and diving has had lower numbers traditionally," McQuillan said. "It's not just Oshkosh. Last year, specifically, there were a lot of outgoing seniors on the teams."
McQuillan entered her 14th season as UWO's head diving coach with two female divers, sophomore Gabrielle Kraus and senior Colleen Barnstable. The team acquired two other divers, junior Emma Link and freshman Johnna Seelman who became interested after receiving the email.
"I wasn't concerned coming in with two," McQuillan said. "I would've been fine with two. We have two very competitive divers. I wasn't concerned with that."
Link said this is not her first time being a part of a diving team. During her junior year of high school, she was a part of the diving squad and even advanced to regionals. However, after hitting her head on the board and needing to get stitches, Link said she decided to take a break from diving and switched to track.
She hopes to prove to people that not just gymnasts make good divers. Link wants to show that inflexible and dainty people, such as herself, can excel at the sport.
"I was looking for a way to get more involved on campus," Link said. "I was thinking about joining a sorority, but that's just not me. I have done sports before here at UWO [cross country and track] and loved the thrill of competing at the college level, and wanted to take advantage of the amazing opportunity. Also, I love diving almost as much as I love running and have a passion for both sports. I'm definitely not as good a diver as I am a long distance runner, but it's exciting for me to see how far I can go with the sport."
On the other hand, there are no male divers on the team this year. According to Culp, the only male recruit decided in June that he would be attending a Division II school instead. There was no interest from walk-ons either.
Typically two to three athletes will make up each diving team, McQuillan said. However, if one team were to have more divers, it would probably be the women's, she said. Diving is very similar to gymnastics, making it a more of a female-orientated sport.
Additionally, the head dive coach said this year is no different from previous years when it comes to the lack of men for the squad.
"It's always preferred to have male divers," McQuillan said. "We will continue recruiting like we do every year. There's always fewer men than there are women, again, across all of the schools that compete in our conference. It's just a bigger challenge to get male divers, generally speaking, not just to Oshkosh but across all of the schools."
Woodbury, his fellow teammates and the men's tennis team understand that their two teams were cut for multiple reasons. Everything from budget cuts, to not being a part of a conference, to Title IX were justifications for why the teams was phased out.
However, the athletes question why teams with such high numbers would be cut when there are other teams out there with lower participation, such as men's diving, Woodbury said.
"I feel bad because I don't want to advocate for them cutting any more programs, but it really does show the inefficiency of the athletic department," Woodbury said.
When asked to be interviewed for this article, athletic director Sims requested that all questions be directed to McQuillan and Culp.
UW-River Falls is an example of a WIAC school who recently suspended both their men's and women's swimming and diving programs. It happened in 2014 due to budget cuts to the athletic department. According to the school, the swimming and diving program cost $56,366.54 during the 2013-2014 school year.
According to UWO Assistant Vice Chancellor Jamie Ceman, women's swimming and diving and men's swimming and diving each have their own budget.
"As a WIAC conference sport, the UW Oshkosh Athletics department allocates the men's swimming and diving budget at $12,381 and the women's swimming & diving budget at $13,815 [for the year]," Ceman said.
Culp said he loves the bond the swimming and diving programs have with one another, as they support each other at both practices and meets. However, he said he does not have enough information to intelligently respond to whether or not just a diving team could be phased out of a NCAA swim and dive team, but he has seen alterations made at the high school level.
"I know from a high school level, the pools I worked at out in California, we had a beautiful, Olympic-sized facility, outdoor, it was brand-new," Culp said. "Once the school found out how much they could save off taking the boards out, with insurance and risk and everything that go out, they immediately took it out. We technically had a diving team but the divers went and practiced at a club somewhere else."
After finishing fifth place out of five teams in the WIAC for three years in a row, Culp is looking forward to continue the rebuilding of the program again this season, he said.
"Swimming and diving's roster is larger this year than it has been in the last five years," Culp said "We are more competitive, broke five school records, had a NCAA B cut in swimming and a NCAA Regional qualifier in diving last season."