10th-ranked Oshkosh women extend winning streak to five
[media-credit id=188 align="alignleft" width="218″]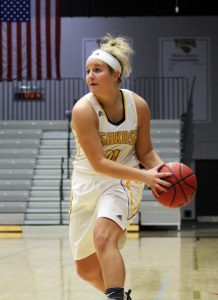 [/media-credit]
The UW Oshkosh women's basketball team traveled to Carroll University on Saturday, Dec. 3 and won 84-51. This win puts the team at 5-0 this season.
Senior guard Taylor Schmidt scored the first seven points of the game, and she finished with 12 points on 60 percent shooting.
Schmidt made three of her five shots, and scored the rest by means of the charity stripe, making six of seven free throws in the contest.
In the first quarter, Schmidt knocked down a jump shot that put her over 1,000 points in her career at UWO.
Schmidt said the overall growth of the team takes precedence, even though personal achievements are always nice to accomplish.
"It is a great opportunity for me and my team," Schmidt said. "It shows that the program went from being so little four years ago to winning twenty-plus games in three years, so I am very thankful for the opportunity."
After playing against Carroll University, she has 1,009 career points as a Titan, and head coach Brad Fischer said he could not be more impressed with her career so far.
"We knew when we recruited her, she had a chance to be special," Fischer said. "To score one thousand points in college, right from your freshman year, you have to be able to score right away. She came in as a freshman and set the tone for the team and her career."
Every player on the roster played in the game, as Oshkosh used a solid team effort to coast to victory. UWO scored at least 16 points in every quarter, including jumping out to a 41-17 advantage at halftime.
Freshman guard Olivia Campbell and senior guard Morgan Kokta, both played 20 minutes in the contest. Campbell had two points on 50 percent shooting, and brought down three defensive rebounds, while Kokta had seven points, two rebounds and two assists.
Fischer said this game presented the team with a chance to work through different lineups and schemes, helping them prepare for the rest of the season.
"It was a good opportunity to get a lot of people in, and we have gotten a chance to see what we have up and down the roster," Fischer said. "We got to play with some different combinations and it was good for our offense to be able to break out."
Olivia Campbell's sister and fellow starter, Eliza, had four points and a team-leading five rebounds, while chipping in two assists and one steal. The senior forward from Green Bay shot 50 percent and played the third-highest minutes for UWO in the contest with 17.
Senior forward and starter Alex Richard knocked down four of seven shots on her way to ten points. She also brought in five rebounds, including a team-high three offensive boards, and one steal.
Oshkosh's bench provided 49 of their 84 total points in the game, as every player but two scored. The reserves had two double-digit scorers and the leading distributor for assists.
Junior guard Emma Melotik led all scorers with 15 points on five-of-nine shooting, including knocking down 83 percent of her attempted three-pointers. Melotik played the most off the bench against Carroll with 18 minutes.
Freshman guard Kylie Moe came off the bench and added ten points, two assists and one rebound. Her 100 percent shooting clip from behind the arc on two shots led the team.
Melotik said bench production is crucial in keeping the team well balanced and games are easier when the starters are not always relied on to provide the scoring.
"When we come in with a strong bench, and the other team does not come in with as strong of a bench as we have, I think that has been extremely powerful," Melotik said. "Our first group starts off every game super strong, so for the bench to come in and keep that energy and consistency is really important."
Other contributions from the bench came from junior forward Taylor Dagon and sophomore forward Melanie Schneider. Dagon chipped in eight points on a perfect three-for-three shooting effort, and Schneider had four points, one rebound and assist in 10 minutes.
Sophomore guard Chloe Pustina, junior guard Kendall Truttman and sophomore forward Isabella Samuels all scored three points in the game, with Pustina and Truttman both earning their points via a 3-pointer.
Fischer said that while everything revolves around the team dynamic, personal achievements help the team's outlook for the season.
"I hope that [Schmidt] looks back and she leaves herself a place on our list for the best that have ever played here," Fischer said.
"I think her career is going to speak for itself, and I am more proud for the 77 wins that she has. To get 1,000 points and another 250+ assists just shows how much she has meant to our program."
The team looks to make it six wins in a row when they host Wheaton College from Illinois on Saturday, Dec. 10. This is their second to last home game before traveling to both Puerto Rico and then the Wisconsin Dells for separate winter break tournaments.