Men's basketball wins two in a row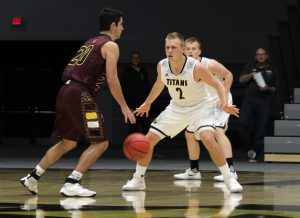 The UW Oshkosh men's basketball team is back over .500 (4-3) after two wins over Calvin College and Maranatha Baptist University. The Titans defeated the Knights and the Sabercats by scores of 73-52 and 75-58, respectively.
Junior Charlie Noone, who scored 31 points over the two games, said he is happy to regain a winning record.
"It feels good," Noone said. "We had a tough start out on the road against some good teams. It's nice to get back on our court and pull together a win."
Oshkosh scored the first points of the game with a jump shot from sophomore Ben Boots, who grabbed the defensive rebound on the other end to set up the offense. A minute later, Maranatha's Richard Medina stole the ball from sophomore Brett Wittchow, which ultimately lead to two points for the Cats and a tie game.
The two teams exchanged the lead six times early in the game before the Titans pulled away 20-11 after Noone was fouled beyond the 3-point-line and made all three of his free throws.
Trailing by 10, Maranatha went on a run to pull within three. The run was sparked by a 3-point shot from Tyree Bearden who was fouled shortly after by senior AJ Mueller. Bearden made both of his free throws and was followed by a layup from teammate Matt Gill to trail only 23-20.
In response, freshman Jack Flynn powered through a foul by Wes Wagner to score the subsequent free throw. After a Titan turnover, Boots stole the ball back, drove up the court, and made a layup.
However, the Sabercats wouldn't go away. Consecutive 2-point shots from Wagner and Jonathan Book brought them back within four. Even though Boots landed a 3-pointer, Micah Shepard responded with one of his own.
In the remaining four minutes of the half, the Titans extended their lead to 41-34 with key free throws from Wittchow and a 3-pointer from Noone.
In the first half, Maranatha held a better shooting percentage than Oshkosh, but Oshkosh shot better from the 3-point line and made six of their six free throws while Maranatha attempted only four.
Head coach Pat Juckem said a goal for his team is to try and get to the free-throw line often, convert and limit the other team from doing the same.
"Our goal is to make more free throws than our opponent even attempts," Juckem said. "When we accomplish that goal, we don't often lose. We have a type of team and style of play that should get us to the free-throw line a lot."
Maranatha opened the second half with a layup from Wagner to trail 41-36. Oshkosh's first points of the second half came three minutes in with a 3-point shot from Noone. After a turnover from the Sabercats and some subs, Noone converted another 3-pointer with an assist from Wittchow to lead by 11.
The lead swelled to 60-41 with three 3-point shots, one by senior Sean Dwyer and two from Boots. Dwyer made another 3-pointer to cancel out a 3-pointer from Bearden to maintain a 19-point lead.
The Titans' first 20-point lead came from a steal by Flynn who turned it into two points with an assist from Boots.
With 1:31 left in the game, both teams took the opportunity to get subs in. Freshman David Vlotho came off of the bench, and got a steal. He was fouled and put on the line and made one of two free throws.
Noone led the team with 15 points followed by Boots with 13, Wittchow with 11 and Dwyer and Flynn scored nine. Both Noone and Boots were perfect at the free throw line while Dwyer was 3 for 4 in 3-point attempts. Sophomore Kyle Beyak and senior Taylor Jansen both contributed four assists.
In the game against Calvin, the Titans took a commanding 12-0 lead. Noone contributed a jump shot and 3-pointer, sophomore Sam Johnson and Wittchow made a layup and Flynn converted three more points on a layup and made free throw.
Juckem said he liked the way the team started the first half and how they set a tone.
"We came out with an edge, which we really challenge our guys to come out with," Juckem said. "We want them to reestablish and impose their will which they haven't been playing with to date."
The Knights scored their first points four minutes into the game with a layup from Mike Siegel.
The next 12-point lead came with 12 minutes left in the half after senior Max Schebel scored on a layup. Noone added to the lead with another pair of 3-pointers.
However, he fouled Michael Wilks beyond the three point line, and Wilks converted all three free throws. In response, Noone made three points.
The largest lead of the half, 42-12, came with three minutes left after a 3-point shot from Wittchow. In the remaining time, Calvin scored three of its next seven points on free throws.
In the first five minutes of the half Oshkosh committed only one foul, but in the last five minutes of the half they committed five.
Juckem accredited the fouls to a breakdown in the defense. He said he wants the team to be physical but avoid fouling and admits there is a fine line between the two.
"When our guys foul, it is something associated with a technical breakdown, something in their stance," Juckem said. "Usually, fouls are mistakes. So in our film study we show those clips to the guys as a teaching point."
Despite the fouls, Oshkosh held Calvin to only 19 points in the first half.
Schebel said he takes pride in the defense and how the players are there for one another.
"The strength of our defense is that we all play together and for each other," Schebel said. "When another guy happens to get beat, there's always someone else to step up and help."
In the second half, Oshkosh began to commit more fouls and turnovers. The Knights were able to bring the game within 20, taking advantage of two consecutive turnovers by the Titans.
Overall, despite being outscored 33-29 in the second half, the Titans pulled out the win 73-52.
This year, the Titans are predicted to win the WIAC conference by the coaches and SIDs of the conference. Noone said the team needs to focus on itself rather than the prediction.
"We need to come to practice and games and just get better everyday, not worrying about predictions and rankings and all of that," Noone said. "We need to focus on ourselves."
The Titans plat at home on Saturday against George Fox University from Oregon.