Titans extend win streak to six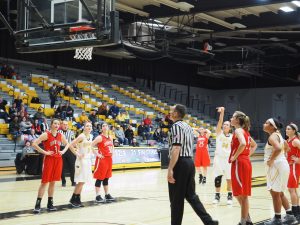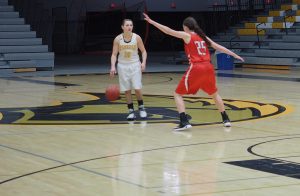 The UW Oshkosh women's basketball team extended their home winning streak this season to eight games with a 73-53 win over the University of Wisconsin-River Falls on Saturday and won again on Wednesday over UW-La Crosse, 71-64.
In the first game, three of five Titan starters were in double figures, and around 40 percent of their points came from bench production.
Junior guard Emma Melotik led all scorers with 14 points, also chipping in two defensive rebounds and one assist in 21 minutes. Junior forward Eliza Campbell scored the first points of the game for Oshkosh on two free throws and finished with 12 points and four rebounds, as well as one steal, assist and block.
After being down in a quick four-point deficit to begin the game, the Titans reeled off a 15-7 run to end the first quarter ahead by the same margin of their earlier deficit, 15-11. This was also Oshkosh's lowest scoring quarter of the game, a testament to their in-game adjustments.
Two players for the Titans, Campbell and fellow starter and senior guard Morgan Kokta, led Oshkosh in scoring in the first quarter. Campbell scored half of her points for the entire game in this quarter, while Kokta knocked down a 3-pointer and had five points.
Head coach Brad Fischer said the team's scoring distribution was very important for the success of the team, especially after facing an early deficit.
"I thought we had really good balance today," Fischer said. "That balance makes us really hard to guard and I think just looking at our stat sheet this season that shows. It helps that we do not have to rely on two or three players to be good every night."
The second quarter was even stronger for the Titans, as they scored 21 points in the quarter and held UW-River Falls to only 10 points. Defensively, Oshkosh held the Falcons to only three made baskets in the quarter on 14 attempts, resulting in a meager shooting percentage of 21 percent.
Senior forward Alex Richard got herself on the scoring sheet by making two baskets and knocking down two free throws on her way to six of her points. Senior guard and leading scorer Taylor Schmidt contributed her only points of the game via the charity stripe around the two-minute mark in the second quarter.
Even with Schmidt not having her best performance scoring-wise, she contributed in every category on Saturday. Besides her point total, she helped the team effort with three rebounds, assists and steals, filling up the stat sheet.
Schmidt only scored two points in the game, but Melotik said that provides the team an opportunity to become more well-rounded and not reliant on just one scoring source.
"I think [distribution] is something that is really important that we have when one player is not necessarily having her best game, but just not contributing as much on offense," Melotik said. "We always have somebody there to help pick her up. It is something that says a lot about our depth, as well. When one person is not doing as well, we have somebody to come step in."
Going into halftime, the Titans had a 36-21 advantage, and the third quarter was more of the same against the Falcons. Melotik poured in another six points on two-of-four shooting, with both made baskets coming from beyond the arc.
Bench production was important in this quarter, as that unit scored as many points in the quarter as the starters did with nine each.
From the bench, freshman Kylie Moe made a three, sophomore Melanie Schneider knocked down two shots and sophomore Isabella Samuels gathered an offensive rebound and got the putback to go for her two points in the quarter.
With this strong showing, the third quarter came to a close with Oshkosh ahead by 22 points, 54-32.
The fourth quarter was the closest quarter of the game, as River Falls put up more points than UWO did, 21-19. 14 of the 15 active players for UWO saw time in the fourth quarter, giving Fischer the ability to rest the starters and let the bench take advantage of valuable playing time.
Junior guard Jaimee Pitt, sophomore forward Erin Vande Zande and junior forward Taylor Dagon combined for nine of the 19 fourth-quarter points for Oshkosh, pushing the Titans to the 20-point victory.
The Titans led most statistical categories for the game, as they attempted more shots and had a higher shooting percentage, they made exactly one-third of their attempted 3-pointers. Oshkosh made 25 of 30 free throws, compared to just 18 of 28 made and attempted by River Falls.
Oshkosh also outrebounded the Falcons on both fronts, earning seven offensive boards to River Fall's five and 34 total rebounds to their 27.
Freshman guard Olivia Campbell said the team was able to limit any extra chances and turn the tide in their favor by winning the rebounding battle.
"We always focus on limiting our opponent's offensive rebounds and I think we did that really well today," Campbell said. "We only gave them one opportunity to score, and when they do not hit that and limit them from scoring, we get a chance for ourselves to score, so that was huge for us."
Winning the foul battle was also important for the Titans, as they earned 25 points from the charity stripe. Fischer said being aggressive throughout the entire game made the difference for the team, especially at the line.
"We were just trying to be aggressive," Fischer said. "We have not been a very good free throw shooting team, and for us to be able to cash in at the rate that we did, we were able to put a lot of pressure on them. It just speaks to our aggressiveness about how we played in attack mode today."
The team's 20-point win is their largest margin of victory for conference games so far this year.
In their most recent game, they faced off against UW-La Crosse on Wednesday and won 71-64. The win pushed them to the 20-win mark for the fifth consecutive year under Fischer.
Kokta and Schmidt tied for the lead in scoring with 14 points apiece, and Richard gathered in five rebounds for the Titans. Off the bench, Pitt chipped in 11, Moe had five and both Samuels and senior forward Madeline Staples had two points.
The team continued their strong showing on the boards with Eliza Campbell bringing down four rebounds, Kokta with three and both Moe and Samuels had three boards in the winning effort. Three of Richard's team-leading five rebounds were on the offensive end of the floor.
Melotik said that winning the rebounding battle on the defensive end has been stressed more recently, and by following through on that, it helped ensure that there were no second chance opportunities for La Crosse.
"We have been concentrating a lot on not letting teams get offensive boards and making sure we get offensive boards as well," Melotik said.
Oshkosh had a lower team shooting percentage and made less free throws than UW-La Crosse, yet earned more steals and dished out more assists in the contest.
UWO clung to a slim one-point lead after the first quarter, with Richard scoring six of her 11 points in the first. Pitt helped close out the quarter for the Titans by converting an and-one layup opportunity with five seconds left.
In the second quarter, Oshkosh increased their lead to eight points and took a 37-29 lead into the locker room. Pitt, Kokta and Campbell helped lead the way for Oshkosh into half, combining for 16 points in the quarter.
Coming out of halftime and into the third quarter, Oshkosh lost a bit of their lead and were only up 50-46 when the third quarter buzzer sounded. Five players scored in this quarter for the Titans, as Schmidt, Pitt, Samuels, Richard and Schneider combined for 13 points.
Both teams were very consistent in the fourth quarter, with each squad producing their highest scoring quarter in the game. Oshkosh, putting up 21 points over La Crosse's 18, had their lead dwindle down to less than five points before they were able to hold off the Eagles.
One-third of Oshkosh's 21 points in the quarter came via the free throw line, with six coming in the last 17 seconds alone. Kokta had six fourth-quarter points, four from the line.
Schmidt had eight points in the fourth quarter alone, helping close out the game for the Titans. UWO ended the game on a 10-4 run during the last 2:53 of the contest.
Continuing on the road, the team travels to UW-Platteville for another WIAC affair on Saturday for their last road game, which is their third-to-last contest of the regular season.