Sammy the Squirrel brings good luck to women's basketball team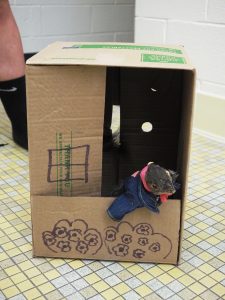 University of Wisconsin Oshkosh women's basketball forward Alex Richard made a new image for herself this season.
The senior is averaging 7.4 points and 6.3 rebounds per game. However, her strong performance on the court is not what helped develop a unique identity for her so far this season.
Rather, Richard can be seen carrying around a taxidermied squirrel in an Olive Garden to-go bag before games. This good luck charm, known as "Sammy," has given Richard fame at both UWO and within the conference.
Richard said word of the squirrel traveled quickly, and she has been randomly asked about the nature of it by opponents.
"Some of my teammates are friends with players on other teams and this was on Snapchat for a while," Richard said. "[One time] me and Eliza Campbell were sitting with the coaches during warmups a little bit, and it was right where the other team was warming up, and someone walks over to me and said, 'Are you the squirrel girl?' and I'm like, 'Yes, I have a squirrel.'"
The origination of Sammy the Squirrel started when Richard attended Kewaunee High School. She said students could receive extra credit if they brought dead squirrels into the small animal agricultural class.
Richard said she and her brother shot about 10 squirrels in their backyard and brought them into school. Sammy was the one Richard's brother taxidermied in class. However, Sammy did not join the women's basketball team until this season.
"Randomly one day this year, someone, I think it might have been Coach, said we were acting really squirrely," Richard said. "And someone said we should have a squirrel. And I was like, 'I have a squirrel.'"
Richard stuck to her word and later presented Sammy to the team.
"So I brought in the squirrel," Richard said. "And the first day he came to practice, we had an amazing practice, so he stayed. And then we had a great game in Eau Claire. I don't remember the whole timeline, but we did not bring him to Whitewater and we lost."
Freshman guard Olivia Campbell said the reactions from her teammates varied when Richard brought in the new pet for the first time.
"It was funny because there were some people on the team who were completely afraid of it, and there were other people like me who grabbed it and we were completely fine with it," Campbell said. "I would say me and Sammy have a pretty good relationship."
Richard said ead coach Brad Fischer, on the other hand, is not as attached to the team's pet the way his players are.
"He kind of rolls his eyes at us," Richard said.
Since then, Sammy has been with the team through thick and thin. During away games, he travels in the Olive Garden to-go bag. On home games and during practices, he sits in a cardboard box the team made into a small house for him.
Richard said there is a reason why Sammy remains within his home in the girls locker room during games.
"We don't want to scare small children," Richard said.
Sophomore Melanie Schneider is not afraid to admit she truly believes the animal gives the team good fortune.
"I feel like we might get made fun of because of the squirrel, but they don't know what the squirrel brings to us," Schneider said. "It brings us luck, and it's a good little critter."